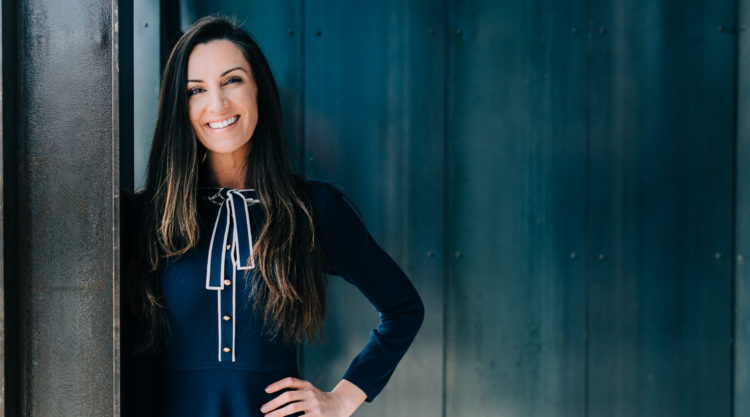 People
Gal About Town: Molly Fortune
As a Denver native, Molly Fortune knows a thing or two about Cherry Creek style and Denver Darling, the boutique she co-owns with digital influencer Abby Miller, is a perfectly curated reflection of the pair's penchant for all things classic and feminine. We sat down with Molly to get her take on fall fashion, the neighborhood's best haunts and all things Jackie O.
What made you open Denver Darling?
My business partner, Abby Miller, and I always discussed opening a store together. After having lunch in Cherry Creek one day, we stumbled across the adorable house that is now our store. We knew we had to jump on the opportunity. Within a month we signed a lease and were on a flight to Dallas to attend our first market.
Favorite lines you carry at Denver Darling?
From the beginning we have carried Commando and our faux leather leggings are one thing we can't keep in stock. They are flattering on everyone! Unpublished is the main denim line we carry now and I'm a sucker for a great fitting jean that doesn't cost a fortune. And English Factory because it has that feminine touch that lots of other boutiques don't carry. Draper James (Reese Witherspoon's cute southern line) and 525 America are also two favorites!
What is your favorite thing about Cherry Creek?
I am fortunate enough to live in Cherry Creek North so I love the accessibility of it. I can walk to work, brunch with my girlfriends, my favorite stores…you name it. Owning a store in the neighborhood has also expanded my appreciation for the community. For me, it's the best neighborhood to live and work in.
Describe your personal style.
Very classic. I am a huge fan of a great staple piece that can last for years. I tend to gravitate towards clean, tailored looks. My style, as well as Denver Darling Boutique's, is feminine with an east coast flair.
Who is your style icon?
I have two. As a little girl, I would regularly go to the library and pull every book I could find with photos of Jackie O as I loved her timeless, effortlessly chic look. I was obsessed with everything she wore from her gowns to her Cape Cod ensembles. My mom had a very similar polished, elegant look which I loved. She was always more dressed up than down. You would never find her on an airplane in jeans.
Five dream dinner party guests?
What an awesome question! I recently watched a documentary on Alexander McQueen and find both him and his fashion fascinating. Mother Theresa because I feel that she would leave you both inspired and consoled. Victoria Beckham because I think she is the epitome of "cool" and I absolutely love her sophisticated style. JFK, Jr. because he's so dreamy and would be fun to look at. And Lady Gaga because I want to be her best friend, I think she would be a blast to hang out with.
Favorite way to relax on a weekend?
I love cuddling up in a faux fur blanket, eating ice cream, and watching mindless TV shows. It's my way to recharge for the week ahead.
Items you are coveting for fall/winter?
We are all about the loungewear right now. I can't get enough of the cozy joggers and cropped pullovers. I'm also on the hunt for a chic trench to cleverly hide my loungewear and a stylish pair of sneakers as I'm finding myself wearing more flats than heels these days.
Favorite Cherry Creek restaurant?
Cherry Creek Grill because it is consistently delicious and you can't beat the Macho Salad. The wine list is also amazing.
Most beautiful place you've visited in Colorado? In the world?
I absolutely love Telluride, I think it's the prettiest part of Colorado. In the world…I was lucky enough to travel to the Amalfi coast with my family a couple of years ago. I was having lunch in Portofino, looked around and was literally in awe. I felt like I was in a painting. There's a certain magic there that's indescribable.
Do you "collect" anything?
Hotel key cards. Many of them have photos of the hotel or of the city where you are and they are a great memory for me of my travels!
Molly Fortune
Denver Darling Boutique
More via denverdarlingboutique.com / @denverdarlingboutique