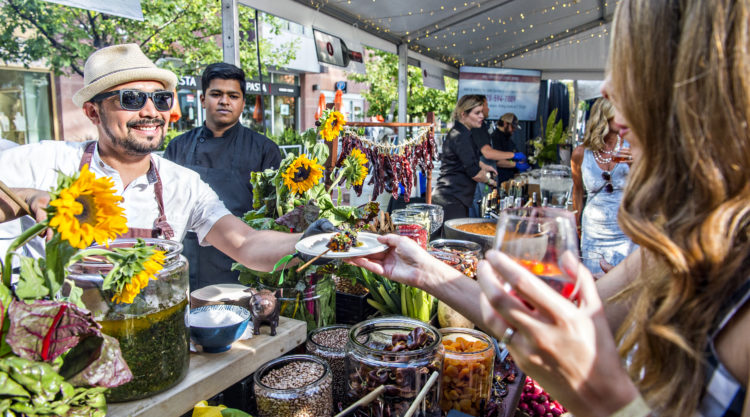 Dining
Wine & Dine
Imagine a dining event in the heart of Cherry Creek North with no disruptions: no car traffic, no pedestrian traffic – only amazed and envious looks from onlookers. Currently in its 12th year, Cherry Creek North Food & Wine is welcoming guests back this August to celebrate and enjoy the diverse and sophisticated tastes of Cherry Creek North restaurants. This staple event, now expanded to four days, offers a lineup of intimate dining experiences, small bites, seminars and demos each day, which all build up to the Grand Tasting sessions on Fillmore Plaza. The event has been recrafted to highlight the extensive culinary options in the area and connect diners directly with chefs and mixologists to explore and savor their unique creations.  New this year, a percentage of proceeds from the event will benefit Food For Thought Denver and their mission to fight childhood hunger in the Denver Community. Cherry Creek North Food & Wine kicks off Wednesday, August 11, and continues through Saturday, August 14, at various locations throughout the district.
__
THE FESTIVITIES
WEDNESDAY, AUGUST 11
Latin Wine Dinner Hosted at Toro
Dinner inspired by the tradition of Central and South American convivial dining culture paired with Latin wines.
THURSDAY, AUGUST 12
Ceviche Making at Toro
Experts provide tips and tricks to make authentic and memorable ceviche.  Poolside Pairings An evening on the rooftop pool deck of the Jacquard as culinary talent from Narrative and wine makers work hand-in-hand to create the ideal summer experience.
FRIDAY, AUGUST
13 Margaritas 101 at SOL
Make and taste five different craft margaritas.
Chef and Shucking at Blue Island Oyster Bar & Seafood
Learn how to pick and shuck fresh oysters while sipping a sparkling beverage.
Cocktail Seminar at Le Bilboquet
Get behind the bar with Beverage Director Josh Peterson and learn to craft world-class cocktails with seasoned mixologists. Caviar and Cocktails at B&GC Meet master bartender Jack Mello and learn about Leopold Brothers spirits while mixing two new cocktails and tasting caviar.
Dinner on the Plaza
Delight in dinner al fresco on the iconic Fillmore Plaza and enjoy an intentionally crafted multi-course dinner with wine pairing.
SATURDAY, AUGUST 14
Blooms and Bubbles
Sip bubbly while The Twisted Tulip experts teach the ins and outs of styling home floral arrangements. Chef and Shucking at Blue Island Oyster Bar & Seafood Round two!
Grand Tasting: Afternoon & Evening Sessions
Talk with winemakers and chefs while sampling food, wine and cocktails from more than 20 Cherry Creek North restaurants.