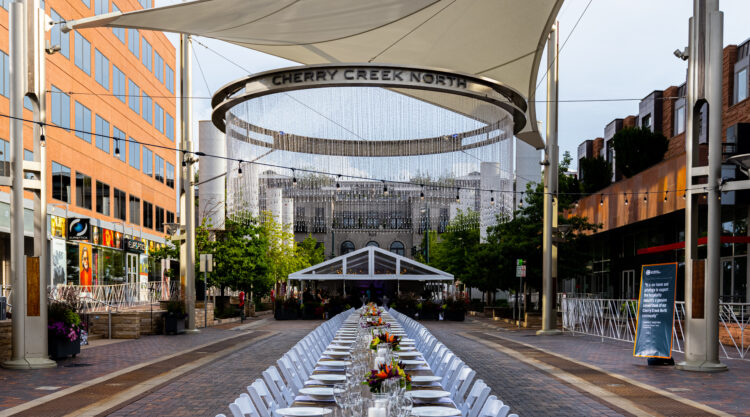 Events
Cherry Creek Al Fresco – A Food & Wine Event
Who's hungry? And how do a few glasses of wine sound? Or, say a bottle?
It's that time of year again! Cherry Creek Al Fresco – A Food & Wine Event is ready to tantalize your tastebuds and seduce your palate with a four-day treat featuring a diverse lineup of culinary experiences, leading up to the Grand Tasting on Fillmore Plaza and culminating with Dinner on the Plaza. The event is a celebration of the diverse and sophisticated tastes of the neighborhood's eclectic dining scene and benefits Food For Thought Denver, a nonprofit organization striving to eliminate weekend hunger for children.
The schedule includes:
Opening Night Cocktail Party at Toro (Wednesday, Aug. 17, from 5-7 p.m.) | $125 per person
Toro, specializing in authentic Pan-Latin cuisine and located in Cherry Creek North's newest hotel, Hotel Clio, will host the Cherry Creek Al Fresco – A Food & Wine Event kick-off celebration. The reception will feature action stations from Chef Oscar Padilla, including Amarillo ceviche, Bison Anticucho, guacamole in molcajete and dessert, as well as Latin-inspired spirit and wine pairings.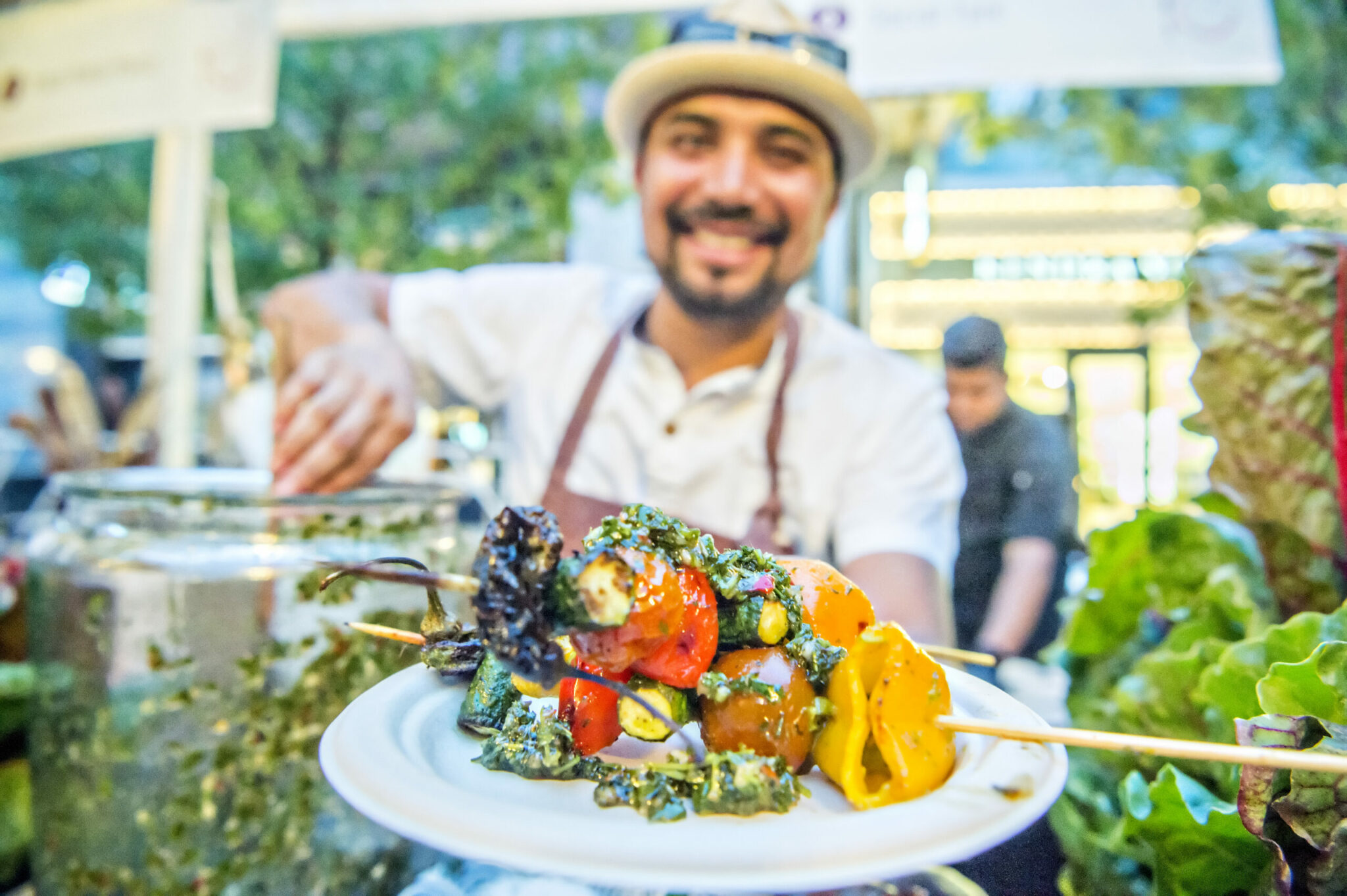 Wine Experience at The Jacquard Hotel & Rooftop (Thursday, Aug. 18, from 5-7 p.m.) | $100 per person
Enjoy cocktails at Dabble, The Jacquard's street-side locale patio, and have the opportunity to speak with the wine experts while also enjoying small bites – a preview from award-winning Executive Chef Paul Nagan ahead of the Grand Tasting.
Ceviche and Mercado Margarita Making Class at Toro (Thursday, Aug. 18, from 5:30-7 p.m.) | $80 per person
Guests will learn to make Toro's signature Mercado Margarita and chef's choice of ceviche from Chef Oscar Padilla during this culinary experience. Guests receive a complimentary cocktail shaker once class commences to recreate the cocktail at home.
Rooftop Cocktail Party at Halcyon (Thursday, Aug. 18, from 7-9 p.m.) | $100 per person
Dance into the sunset with a good wine list and playlist from one of the best views in town – on the rooftop of The Halcyon, a hotel in Cherry Creek. Guests will preview small bites from Local Jones' executive chef Brendalee Vialpando, who will be featured in the Grand Tasting.
Wine & Art Pairings in Relévant Galleries (Thursday, Aug. 18, from 7-9 p.m.) | $100 per person
A professional sommelier and art expert in Relévant Galleries will walk guests through four to five wine pairings and pieces of David Yarrow art on display, discussing artful wine pairings and Yarrow's production process behind each piece. Guests receive a complimentary David Yarrow photography book to bring home.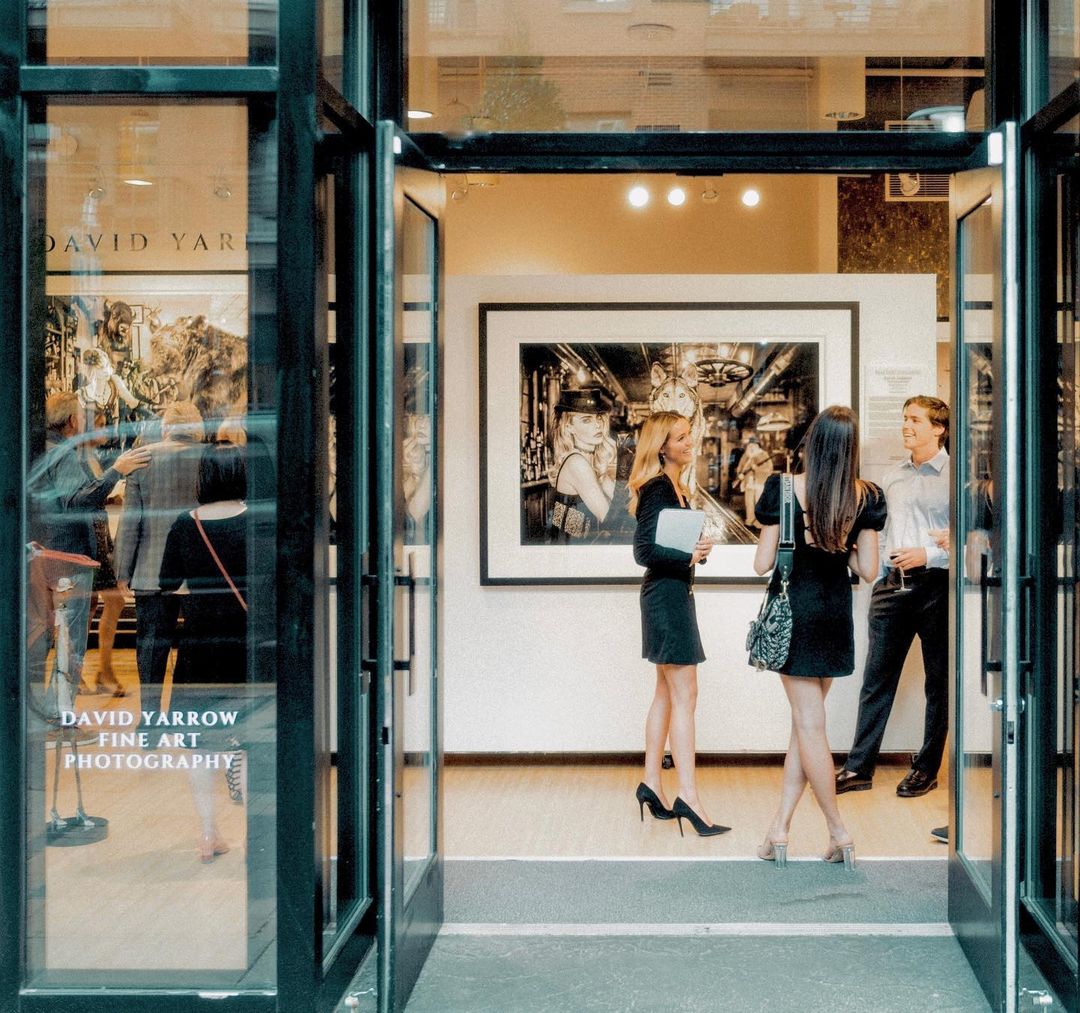 Chef and Shuck at Blue Island Oyster Bar (Friday, Aug. 19, from 3:30-5 p.m.) | $100 per person
Enjoy a glass of sparkling wine and a dozen oysters from around the world while Blue Island Oyster Bar's farm and dive teams teach guests hands-on how to properly shuck an oyster. Guests will also learn what makes Blue Island oysters so special, and the differences between other varieties. Guests receive a complimentary shucking knife once class commences to try their hand at shucking oysters at home.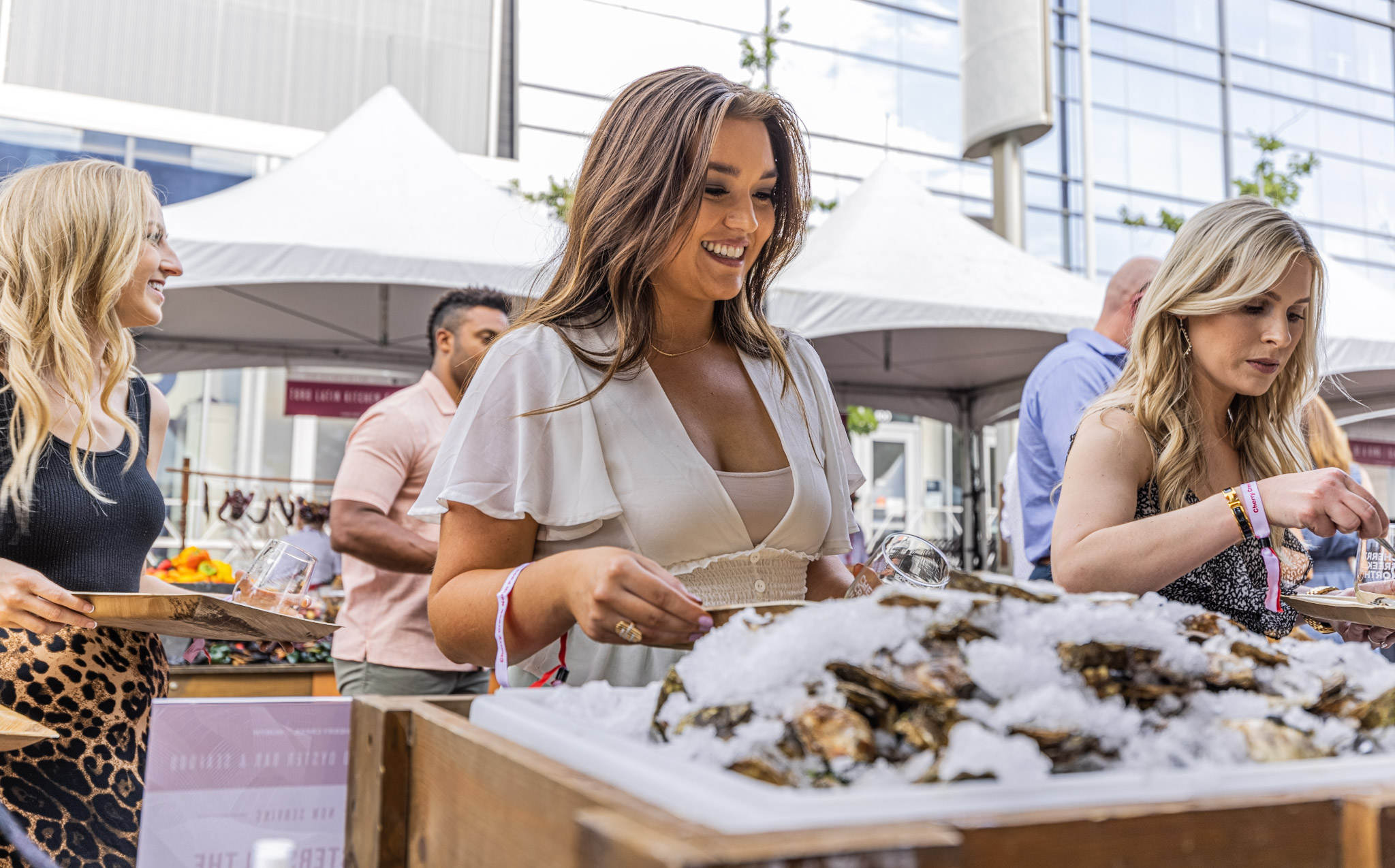 Cocktail Seminar at Five Nines (Friday, Aug. 19, from 3:30-5 p.m.) | $80 per person
Get a hands-on experience in one of Denver's hottest new bars, Five Nines. Inspiring a sexy, secretive atmosphere, the lounge offers an intimate stage for live performances, and guests of the cocktail seminar will have a front row seat. Mixologists will guide guests through Five Nines' three-part menu, selecting one cocktail for the group to create.
Grand Tasting (Friday, Aug. 19, from 6-9 p.m.; early access beginning at 5 p.m.) | $125-$150 per person
The penultimate Cherry Creek Al Fresco event, the Grand Tasting highlights the neighborhood's dining scene, featuring a collection of 20 restaurants, 20 wine and spirit partners, live music and voting for winners in select food and beverage categories.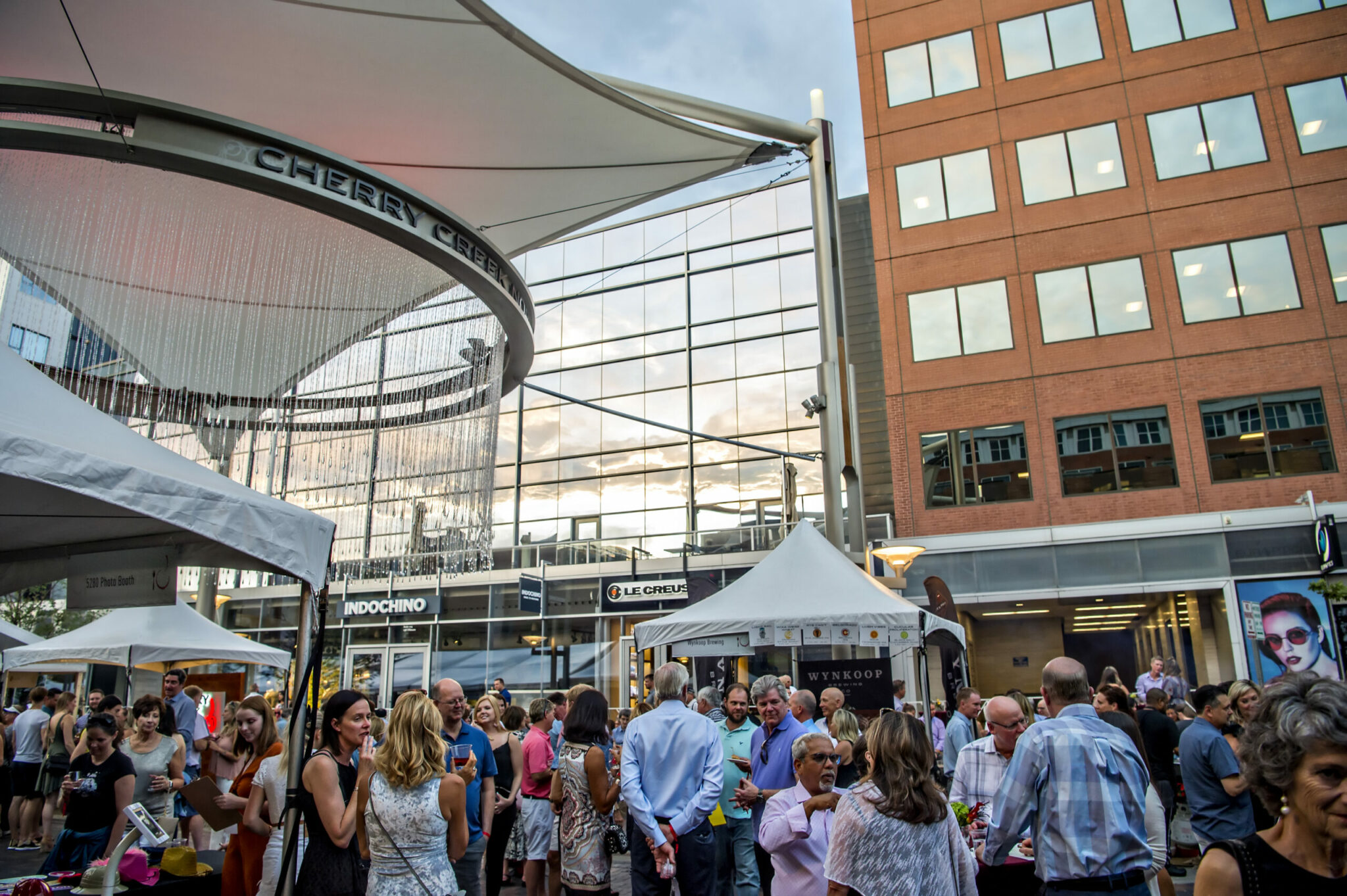 Mimosas & Blooms at Forget Me Not (Saturday, Aug. 20, from 10-11a.m.) | $80 per person
Sip on mimosas while creating flower arrangements on the patio that everyone wants to see and be seen, Forget Me Not. The familiar white picket fencing makes this the perfect spot to get creative with seasonal, colorful blooms with the help of a Cherry Creek North floral shop.
Dinner on the Plaza (Saturday, Aug. 20, from 6-9 p.m.) | $225 per person
The final event of the weekend, Dinner on the Plaza is a culmination of Cherry Creek Al Fresco, featuring a four-course meal served on a 120-foot community table on Fillmore Plaza. Three local female chefs will prepare the four-course community feast: James Beard Award-Winner Chef Charleen Badman, celebrity chef Mary Dumont, and local Executive Chef of Local Jones Chef Brendalee Vialpando. Each course will be paired with Napa Valley wines provided by Bigsby's Folly.
Buy tickets for Cherry Creek Al Fresca – A Food & Wine Event HERE.