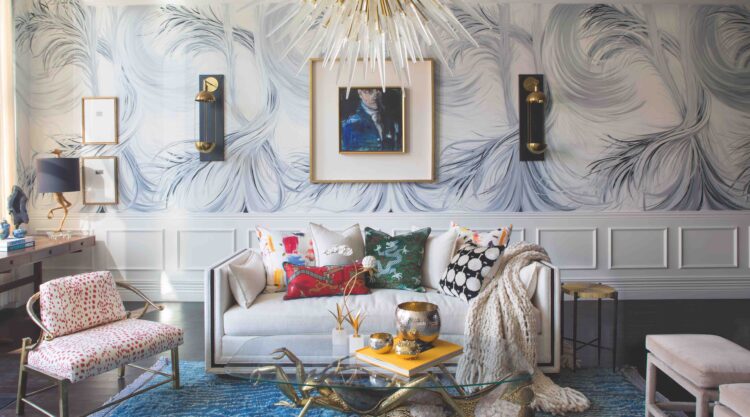 Home
Vibrant Interiors
Featured Image, Above: A space from Schumacher's Denver studio that the designer says "epitomizes what our firm is known for: mixing antiques culled from my travels around the world, showstopping art and light fixtures, and clean upholstered furniture to balance it all out." Photo by Emily Minton Redfield
"I firmly believe that a house should never be too serious—you always need to dot a room with pieces that are kind of hilarious, almost so ridiculous and whimsical that they spark a dialogue." Andrea Schumacher ought to know. After all, she's been creating some of the most beautiful, talked about spaces in town for more than 20 years. Known for her bold, fierce and curatorial sense of style, Schumacher's work – be it a butterfly sculpture made from recycled cans found on the streets of Manhattan, or a graphic wallpaper adorned with Great Danes – always makes a statement.
This month, the celebrated designer unveils her first book. Vibrant Interiors, Living Large at Home (Gibbs Smith, $45), explores Schumacher's intrepid approach to design through 225 beautiful pages of delightful prose and over 200 vividly captured images. From her inspirations (including an artist grandmother who studied in Paris under Fernand Leger and Salvador Dali during the 1930s) to the signature elements she likes to incorporate into every project (like a comfortable seating vignette for long, lively conversations), Vibrant Interiors peeks behind the brightly colored curtain of Schumacher's world.
The book primarily focuses on six specific projects, each more unique than the last. Meander through a Cherry Hills Village estate that was transformed into a Hamptons-style haven. Explore a 4,000-acre Wyoming ranch where Schumacher and her team created a showstopping trove of texture and unexpected finds (like a 1960s newspaper article about the ranch that she had made into custom wallpaper for the billiard room). Discover a lakefront Colorado home that is equal parts Cape Cod classic and jewel box glam. No matter the space, Andrea Monath Schumacher's inimitable, decisive eye leads the reader on a journey of high style and endless inspiration.
Read the complete feature in the Spring 2022 issue of Cherry Creek Magazine here…
In Her Words…
CCM: Talk about how color can impact a space.
AMS: Color or even lack thereof, has a long and well-studied history of its effects on emotions. Red and yellow is stimulating. Blues and certain greens are calming, and so on. Be aware of what you want from your space and how to use color to evoke that emotion. Another factor in choosing a color for your home? How YOU personally look in it. Do you have green eyes and want to accentuate that? Use those colors to do so. Look fabulous in your home!
CCM: What's your best advice for those who are afraid to incorporate color in their homes?
AMS: Start small. If you're afraid of color, use it in ways that are easy to change! Pillows, for example, are a great way to add a bit of personality and drama to your room without a big commitment.
CCM: Be honest. What's your favorite project in the book?
AMS: That's a tough one because I love them all! If I had to choose, it would probably have to be my own home. Getting the chance to express my own personal story through design with my family is so special and it means the world to me.
CCM: An office in Santa Barbara and now a book. Your brand has evolved so much over the years. What's next for Andrea Schumacher Interiors?
AMS: My very own product line, The Liesl Collection! We've begun by introducing a line of customer wallpaper, inspired by my artist grandmother, Elizabeth Monath. I have over 50 years of her work that I have begun to pattern and reinterpret into textiles. Getting to pay homage to her creative legacy has been a rewarding and heartfelt process.
Shop The Liesl Collection via lieslcollection.com