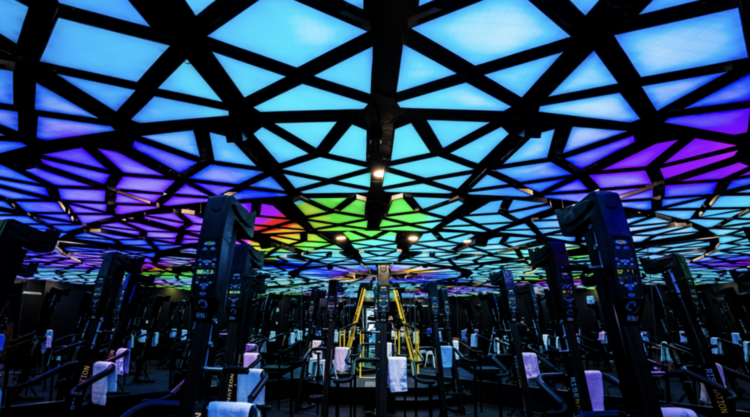 Wellness
Up & Away
From Celebrity Partners to a Pre-COVID Launch, The Inside Story Behind CLMBR's Stairway to Heaven
Avrum Elmakis solved the puzzle without needing to buy any vowels from Pat Sajak.
CLMBR.
"Much like Elon Musk didn't invent the car, I didn't invent climbing as a modality. Somebody else did that," Elmakis shares from his Cherry Creek office. "My job in this was how to make it the absolute best expression of that modality."
It's the most efficient, safe-for-all-ages, high-intensity cardio workout in the world, whose impressive array of partners is providing a new, fully-immersive connected workout experience unlike any other.
And Avrum's story has been one hell of a climb so far.
He's a thinker and a doer, with the apple not falling far from the tree. His father, born in Morocco, graduated with a degree in engineering from Virginia Tech. His mother, a native of South Africa, was a social worker and mother of two. The family would end up in Newport News, Virginia, where his dad worked on nuclear-capable ships for Newport News Shipbuilding as a government contractor.
"It was a crazy place to grow up. There was a lot of culture and a very diverse population. Newport News is notoriously known as a bad area, so you stay focused with your head down and you get your work done," he discloses.  "Coming through an immigrant family household as a first-generation American, that's typically where you're seeing a really hard work ethic and a pursuit of a lot of different things."
Those "different things" translated to jobs after college in Richmond, Virginia, that would help shape and navigate this incredible journey. "My first job was with Mac Tools, a division of Stanley Black & Decker. This is the tool truck I drove around," pointing to the toy model perched at the head of his desk. From there, he continued to build his resume and experience in pharmaceuticals, medical devices, and financial sales – all avenues where he was absorbed into the business development of selling products and connecting with customers.
Then, in 2007, Elmakis and his wife Lauren pulled the trigger and put their business forecast in a new gear, betting it all on themselves. It was a decision that would change their lives forever.
The venture was a line of natural dog treats and chews, and its conception is one of those entrepreneurial stories that is scripted for the American dream. "I was working a full-time job. Lauren was working a full-time job. We were renting a two-bedroom condo in Richmond," Elmakis explains. "I just had this intense belief that others would share the passion for health and wellness for their pets the same way Lauren and I do. And that was true." The spare bedroom is where the company began, until it ballooned to hundreds of employees, and Avrum and Lauren were on their way.
So, how do you go from a life-changing business venture with dog treats and chews to a reconfigured fitness machine, the likes of which have changed the way people work out and live today? "My version of entrepreneurship is to build things based on my experience, and I've tended to focus on health and wellness and things like that. Just like the pet treats, CLMBR became self-evident that there was an opportunity to create something better."
Elmakis was a triathlete. He cycled. He swam. He ran. In fact, he ran from stress right into the life of a triathlete, "As an entrepreneur, the level of stress that you deal with is intense," he confides. "It comes in waves with really good days and really bad days. For me, it was an outlet to help with mental pressure and stress and not focus on the day-to-day of what I had to do."
"For me, I've always had grit. I've always had determination and an insane work ethic, and that matched being a triathlete. To do that well and enjoy it, it takes a lot of training and discipline. There were days when I went on six-hour bike rides. I would put on my wetsuit and go into the James River in Richmond and swim against the current in the morning before work. It's this natural fuel that's in all of us that helped weather these storms when they came. I always say it's like building armor. For anybody, I'd say moving is better than not moving."

So, with his experience with lower back pain, neck pain, sore shins, ankles, knees and hips, Elmakis knows whereof he speaks when it comes to comfortable and effective exercise options. When he first encountered a VersaClimber machine, he realized that there was a better way to do it and that the equipment was inherently not what he wanted it to be or what he thought it should be.
And that, according to Elmakis, is why CLMBR was born.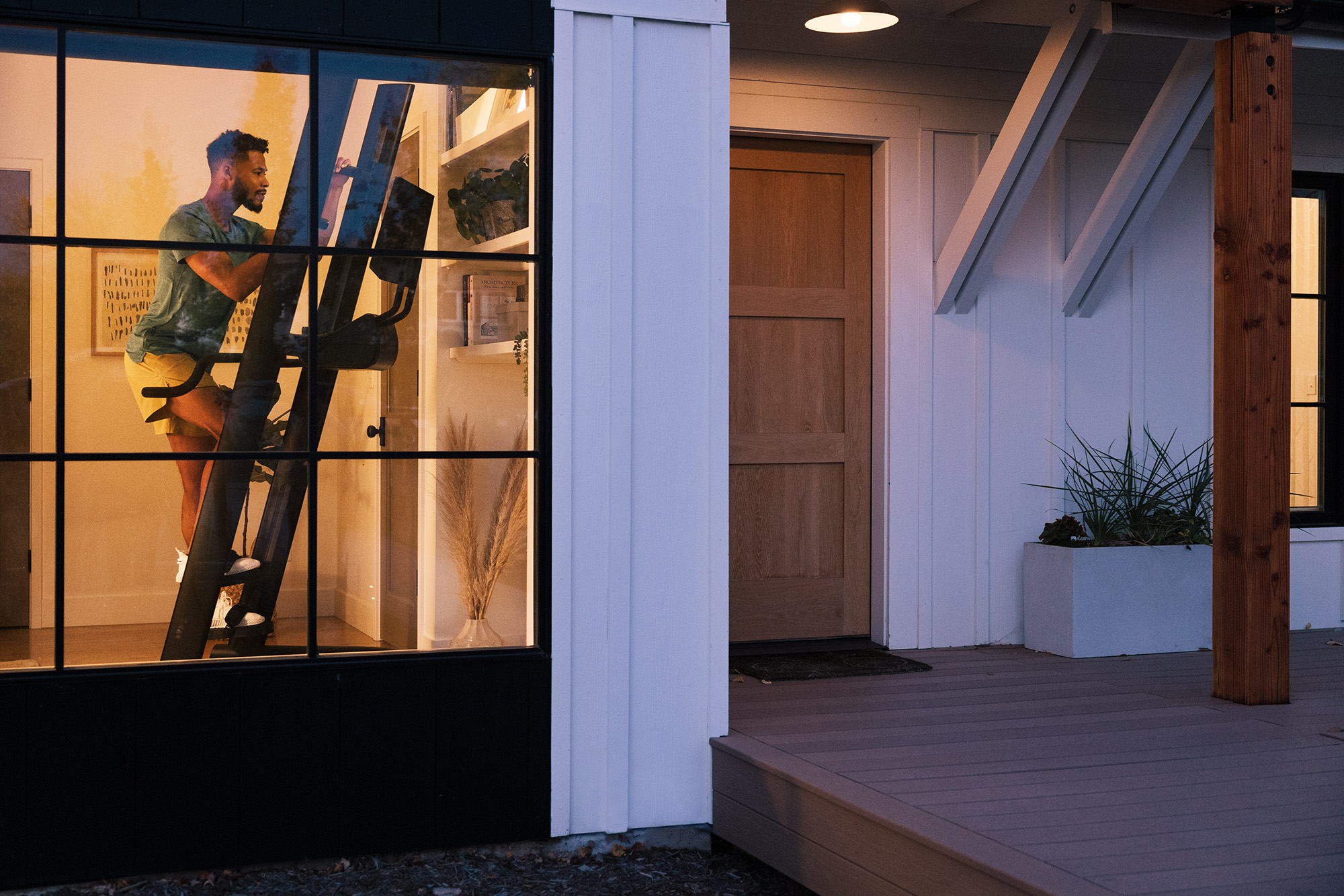 Present day sees the 41-year-old husband and father of four dressed in workout clothes and sneakers, having already gotten a morning sweat out of the way, and now behind a desk in his corner office. The office walls are adorned with assorted displays of artwork and motivational quotes, perhaps reminding this serial entrepreneur where he came from and how he got here.
As we chat, I spy a treadmill behind his desk. "What's that all about?" I ask.
"I walk every day at my standing desk," he says with a chuckle. "Rarely am I seated, and rarely am I sitting still or standing still. I usually walk between five and 13 miles a day when I'm at the office. Why sit all day and then sit to work out?"
CLMBR is all vertical, and that's by design as he astutely explains, "As we progress through our human existence, we go through our cognitive decline. We get Dementia, Alzheimer's, Multiple sclerosis, and Parkinson's disease. The really cool thing about CLMBR is that we made it upright because a lot of people have trouble sitting down. You're not going to find an 85-year-old with Fibromyalgia and Parkinson's anywhere else but on a CLMBR. Also, most of the other workout options are 45 minutes to an hour. We're 30 minutes. Other options are also high impact exercises, and I don't do a lot of that in my life. I want to preserve what I've got as long as I can. It appeals to people looking for safety and time efficiency."
CLMBR has also appealed to some of the biggest and well-known names in the world. LeBron James, tennis star Novak Djokovic, and Super Bowl Champion Odell Beckham Jr. are elite athletes who have invested, joining YouTube co-founder Chad Hurley, media personality Ryan Seacrest, and music titan and billionaire entrepreneur Jay-Z, to name a few. In explaining this collection of famous partners, Elmakis' reasoning is rather simple, "Fitness is a passion that cuts through sport, entertainment, lifestyle and humanity. It helps them in their pursuit of what they choose to do in their life. It's intensely physical to be an entertainer and an athlete at the highest level. Your body is creating your revenue, but CLMBR is also preserving their longevity with less impact and less time. Ultimately, these are smart people. You don't just become a Jay-Z. That takes years of blood, sweat, and tears to even get close to having an opportunity to be somebody at the level."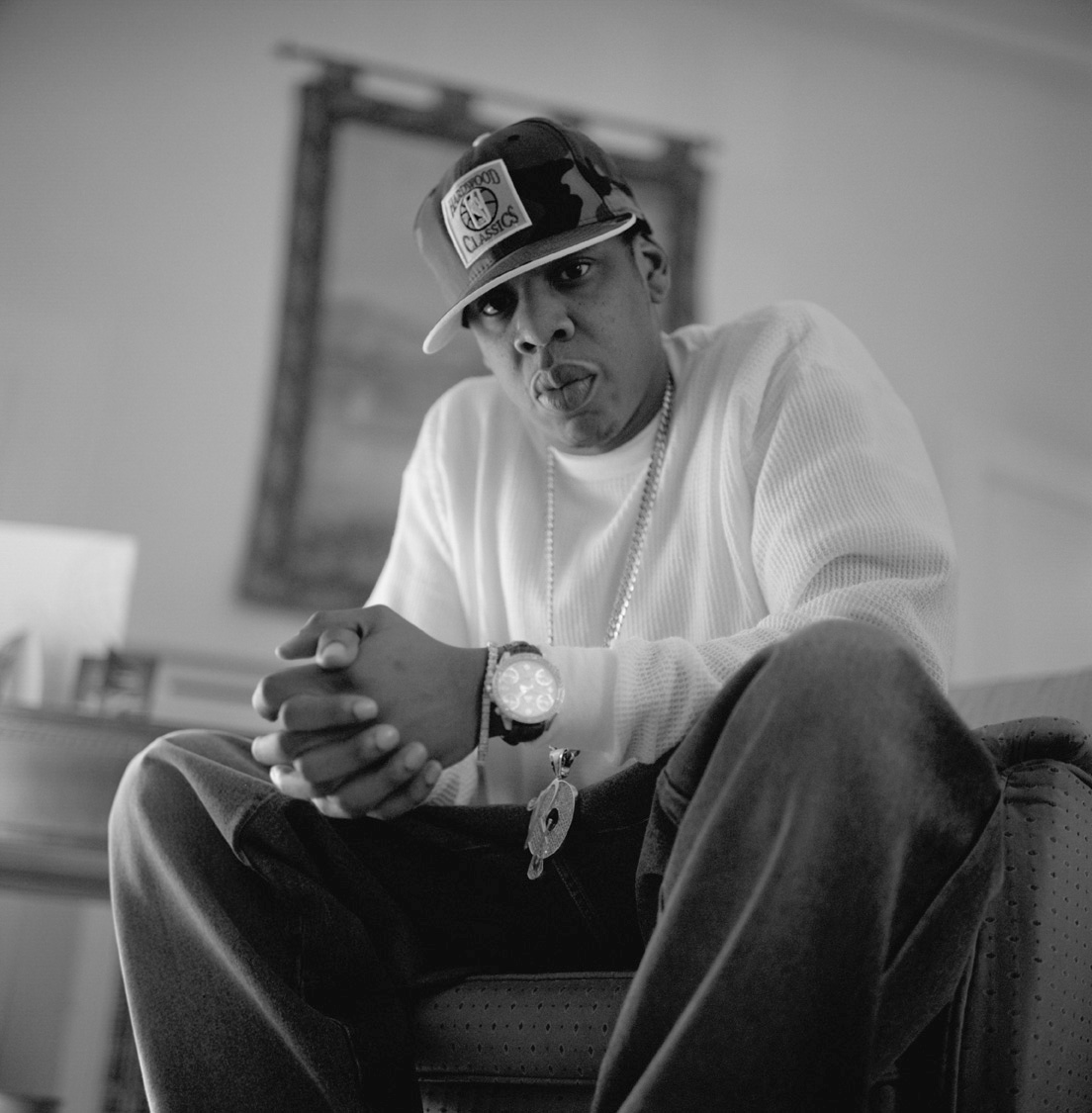 However, the rich and famous get pitched investment opportunities all the time. So, what closes the deal? It starts with the product and whether it's something that potential partners can see the value in for themselves. If he had sent LeBron a deck for a treadmill, a bicycle, or a row machine, he doesn't think he'd have gotten the same response as something like CLMBR that's something wholly new, differentiated, unique, and, as Elmakis puts it, "just has this beauty to it that calls to you."
I wonder out loud to Elmakis, considering his incredible path to CLMBR, what his advice would be to any inspiring entrepreneur, and his response is simple, "Start small. CLMBR is big. It's different than a natural dog treat or dog chew. There's a much different level of complexity, but, before I'd gotten to that, I had dealt with supply chains, personnel, human resources, capital raising and exits, and all those things for 13 years. That's a sharpening of the intellect that can only be gained through experience and not something that you can get taught or read in a book."
While launching in October of 2018, CLMBR had big plans for the evolution of the brand until the pandemic hit. Adjustments had to be made and additional partnerships and strategies had to be scrapped while the world was faced with an unknown future.
Where are things today?
Elmakis says with a smile, "We're retrenching under our original vision to be an omni-channel company, so we want to serve the healthcare community, the physical therapy community, the gym, the physical fitness community in the B2B (business-to-business) space while serving customers at home and through retailers. I think we're very close with our Gen2 product coming out and our reassessment of team size and structure with our better understanding of the markets, the dynamics, and the new rules of the game that we're all having to play by. I think we're well positioned for a very exciting future."
Avrum Elmakis has the pedal to the metal. Full steam ahead. His business plan is just getting started now that COVID appears to be tailing off. But you know what? All those bike rides, long runs, and swims in frigid rivers are paying off because he's not worried about it.
"If it doesn't work out, then that's ok too. You get up and you try again. The most successful people I know had plenty of failures along the way to success. I always live by the tenant that, at the end of this life, regardless of what you do, your regret will be the risks you didn't take and the people you chose not to help."
One thing is for sure, he's had great training for this climb.