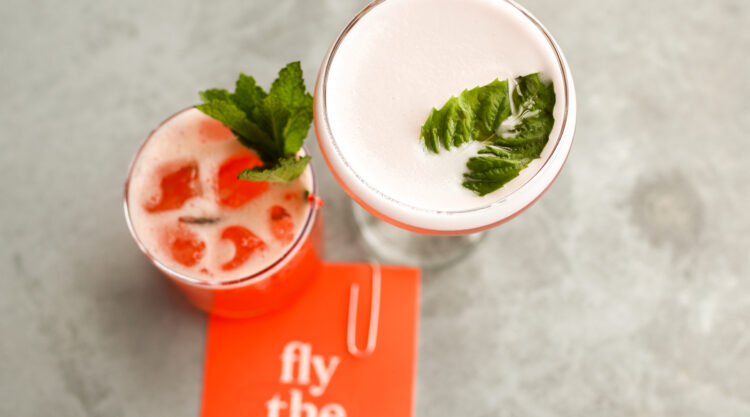 Dining
The Dining Guide
Cherry Creek and the surrounding neighborhoods go hand-in-hand with award-winning restaurants. On the patio. On the rooftop. In the dining room. New flavors. Seasonal cocktails. The perfect wine and a mind-blowing dessert.  From breakfast and brunch to lunch, happy hour, and dinner, this culinary mecca is always brimming with unforgettable dishes, so we chatted with some of the best to get just that – the dish on what's tasty and a can't-miss this season.
CCM: Tell us about your new offerings this season.
Toro Latin Kitchen & Lounge: We are so excited to share that Toro has a new Chef de Cuisine, Tracy Todd. We have also brought back our lunch menu with some delicious new additions and our power lunch menu was designed to fit a delicious meal into a quick lunch break.
Urban Egg: We now offer breakfast bowls, perfect for catering office meetings, parties or any gathering. Options include Salmon Lox, Chicken & Waffle, Southwest, Vegan Buddha and more. 
Narrative: We are elevating our brunch menu to create fresh new dishes that focus on local and seasonal American dishes. We also have some fresh new faces that have joined our team in both the front and back of the restaurant who are excited to meet you and welcome you into our home.
Jax Fish House Glendale: We offer a seasonal menu at Jax, so we are always taking advantage of the best of the season. A lot is new! 
801 Chophouse: The watermelon and arugula salad!
Kona Grill: We are featuring Red, White & Blue Cheeseburgers at Kona Grill this summer! These are also served as a flight of sliders on the happy hour menu. Our summer features also include Seafood Fettuccine Alfredo, Apple Pie, and our Passion Fruit Casamigos Margarita. We're taking full advantage with al fresco dining experiences for both lunch and brunch, and you can also enjoy the nighttime Colorado summer breeze during the traditional and late night happy hours. 
Halcyon, A Hotel in Cherry Creek: We recently launched Rare Bird, Denver's newest rooftop bar atop Halcyon. We feature the same amazing Denver views, new specialty drinks, craft beers, wine, and a revamped light fare menu.
CCM: What are the must-try
 

dishes on your menu?

Toro Latin Kitchen & Lounge: We are known for our world-class ceviche menu. Each ceviche we serve is presented with freshly-made corn and plantain chips, which pair perfectly with a margarita on our shaded patio. Our guests are also loving the new items on our lunch menu like the Cusco Chicken Sandwich, which is served on a pretzel bun with plantains and chimichurri mayo.

Urban Egg: You must try the Denver Hot Chicken Benedict. It's classic hot chicken with a Colorado twist featuring roasted Colorado chilies, celery, carrot and bleu cheese crumbles. These incredible flavors cannot be missed.

Narrative: This Colorado heat is coming and there is no better way to cool down than with a fresh gazpacho. Ours will feature a compote of local tomatoes, cucumbers, banana peppers with tomato consume and an heirloom tomato sorbet thanks to our partner over at God Save the Cream Creamery. Another can't miss is our Filet Mignon served with potato doughnuts, Brocolini gratin and tellegio cream. It is as if a cheesesteak got promoted.

Jax Fish House Glendale: Try our Crackerjax. These oysters come from our long-time collaborators and friends at Rappahannock Oyster Co. They are the perfect blend of salty and sweet. Also check out our Greenhead Lobster Co. lobster roll with herb dressing on a buttered split top roll; grilled salmon with spring onion tater tots; you can never miss with halibut, and the unsung hero of the menu is our burger. We have a seriously good burger. 

801 Chophouse: The Foie Gras is a must-try! Ours is seared and the perfect addition to any of our cuts of meat. Not only is it delicious, it's also raised on a free range farm.  

Kona Grill: The Endless Summer Menu features several new additions like the Red Sloppy Joe Burger made with BBQ smoked brisket, angus beef patty, American cheese and fried onion. For your seafood cravings, the Seafood Fettuccine Alfredo with shrimp, bay scallops, mussels, alfredo sauce, Parmesan cheese and scallions is a must-try. 

Halcyon, A Hotel in Cherry Creek: The chicken wings at Rare Bird with mango BBQ, ranch, and shaved veggies are packed full of flavor and perfect for a summer evening on the roof.
CCM: Let's talk small plates. What appetizers should we try?
Toro Latin Kitchen & Lounge: While we have a handful of delicious appetizers, we must mention our corn empanadas. They are the perfect combination of sweet, creamy and crunchy, made with Manchego cheese and aji corn, and are served alongside avocado puree and chimichurri.
Urban Egg: The Billion Dollar Bourbon Bacon. Applewood smoked pork shoulder with our billion-dollar glaze. Indulge on your own or share it with the table to start your breakfast off right. 
Narrative: We have our house favorite of lobster corn dogs that are always a crowd pleaser, but also look out for some new stars. We are working on stuffed squash blossoms with creamy polenta and peanut chile sauce with grilled and pickled vegetable. One of our personal favorites is the beet duo with roasted golden beets and red beet hummus topped with a pine nut crumble.
Jax Fish House Glendale: We have had a few different iterations of our steak tartar over the years, but our current dish comes with three fried oysters: Dijon crema, grana Padano, and grilled sourdough. We have also added Chef Jenna's Thai green curry to the Steamed PEI Mussels line-up. It's super fresh with green ingredients and there is some heat from the chili, but this appetizer is loaded with fresh aromatics. 
801 Chophouse: The tempura fried lobster bites. They are a great start to any of our entrees and a definite favorite. 
Kona Grill: Fan favorites include Seared Sea Bass Sliders with miso sea bass, furikake, miso aioli, Asian slaw and cucumber salad on King's Hawaiian Rolls served with a side of russet chips; the Avocado Egg Rolls accompanied by honey-cilantro dipping sauce; and the Ribeye Meatballs with shallot and shiitake, macadamia nuts, chili glaze, creamy peppercorn sauce and whipped potatoes.
Halcyon, A Hotel in Cherry Creek: The grilled lamb skewers at Local Jones are one of our signature dishes. This dish is the perfect start to any good evening, complemented with cucumbers, pickled onions, tahini, and house-made flatbread.
CCM:
How about brunch?
Toro Latin Kitchen & Lounge: We are always excited about our award-winning unlimited brunch service, where we offer free flowing bites, cocktails and other beverages every Saturday and Sunday. We will also host a variety of live music activations every weekend from 12 p.m. – 2 p.m. to make the brunch experience even more lively!
Urban Egg: Our innovative twists to classic breakfast favorites. Urban Egg offers best-in-class food and beverage items in a lively setting with genuine and sincere guest service. Our award-winning Blue Corn Huevos Rancheros, Rocky Mountain Corned Beef Hash and Mile High Bourbon Chai are favorites among locals and first-time guests.
Narrative: We are excited for our new sour Cherry Creek smoothie that packs a punch of depth with sour cherries, acai, and freeze-dried tangerine. Another can't miss that we are working on are the fried chicken pancake tacos with a strawberry jalapeno salsa and maple butter. It is a version of said chicken and waffles that you just cannot stop eating!
Kona Grill: Kona Grill brunch happens every Saturday and Sunday from 10 a.m. to 2 p.m. We are one of the few locations that offers the bottomless 'Kona-Mosas' option with champagne and several other flavor additives. Our signature dishes include Spicy Lobster Avocado toast, The All-American, and the Kona Loco with seared spam, jasmine rice, sautéed onion and shiitake mushrooms, furikake, eggs and loco sauce.
Halcyon, A Hotel in Cherry Creek: Chef Saura's cinnamon rolls or donut holes can't be missed if you want a sweet treat. If savory is more your style, then our Eggs Benedict with tasso ham, a house-made English muffin, crispy potatoes, and hollandaise is a must-try. Join us every Sunday, from 10 a.m. to 2 p.m. for Vinyl Brunch Sundays where beverages flow as the vinyl spins.
What seasonal cocktails will we find on your menu?
Toro Latin Kitchen & Lounge: Our Mercado Margarita is the perfect summer cocktail. To start, it's a beautiful drink, reminiscent of a summer sunset with the pink from our rosemary hibiscus foam melting down into the yellow of the passionfruit juice. You get the spice from the Tanteo Jalapeno tequila, some sweet from the foam, and then a little tart with the passion fruit and lime juices mixed in. Don't like spicy? We can make it with the Tanteo Blanco tequila to cut back on that, and it's still a delectable treat!
Urban Egg: The BC Aperol Spritz. A refreshing classic and a shout out to our dear friends in Beaver Creek. The color is beautiful and it's perfectly light for those warm summer nights.
Narrative: Muscadet is always refreshing and perfect for patio weather. Typically, Muscadet has a lower ABV so you can sip on it all afternoon in the sunshine. Also, Clos Cibonne Tibouren Cru Classe, with its medium acid and a beautiful finish, just makes you want to have another sip…and another. Summertime cocktails have to be rum-based or gin-based, so we like a light lilac gin old fashioned or a lavender gin fizz, and you can't go wrong with a classic banana daiquiri either!
Jax Fish House Glendale: We recently introduced a new wine list at Jax, both by the glass and by the bottle. Our new list is inspired by our fresh, seasonal and sustainable menu and is mostly organic, sustainable and/or biodynamic. These wines pair perfectly with seafood and are a perfect pairing to our menu. 
801 Chophouse: Our 1993 signature scotch cocktail and of course a Mai Tai are always popular. But the fan favorite is our Troon – the 801 take on a classic Greyhound. We use only the freshest ingredients: daily squeezed juices, housemade syrups and tinctures to keep our cocktail program fresh and timely.
Kona Grill: We have two new cocktails that are perfect for cooling down on hot summer days – the Passion Fruit Casamigos Margarita made with Casamigos Blanco, Cointreau, passion fruit pureé, fresh lime and a tajin rim; and The Summer Refresher, made with La Marca prosecco and the Red Bull 'Red' edition.
Halcyon, A Hotel in Cherry Creek: Our perfect summer cocktail is the First Class at Rare Bird with altos, grapefruit, Aperol, and basil. It's like a bright and sippable play on a bourbon smash.
Ending on a Sweet Note. What's your best dessert this season?
Toro Latin Kitchen & Lounge: La Bomba is simply the quintessential summer dessert. We like to call it edible art. Picture a chocolate sphere filled with cookie crumbles, seasonal berries and a mound of assorted sorbets and ice creams. A server brings it to your table and cracks the whole thing open right in front of you. It is refreshing and fun, and it brings a smile to everyone's face. Digging into La Bomba is the perfect way to celebrate summer.
Urban Egg: Stuffed French Toast is the perfect way to end your meal. Stuffed brioche, infused cream cheese, crème anglaise and fresh berries topped off with a caramel drizzle and whipped cream.
Narrative: You can't go wrong with homemade cookies and ice cream from God Save the Cream, however we are finalizing a baked meringue dish with Palisade peaches, shiso (Japanese mint) and strawberry that should shout "summer" from the rooftops.
Jax Fish House Glendale: Our summer dessert is the warm Blueberry Buckle, which is served with whipped ricotta and chile agave. Just a little chef's kiss to the fruits of summer. 
801 Chophouse: Our SemiFreddo: Strawberries & Cream, Vanilla SemiFreddo (A half frozen Italian Ice Cream) Honey Cake, Pickled Green Strawberries, Honey Brittle and Strawberry Sorbet.
Kona Grill: Our beloved homemade dessert menu includes the three-layer carrot cake with cream cheese frosting, caramel sauce and toasted walnut; and the Original Warm Butter Cake with raspberry sauce and vanilla bean ice cream.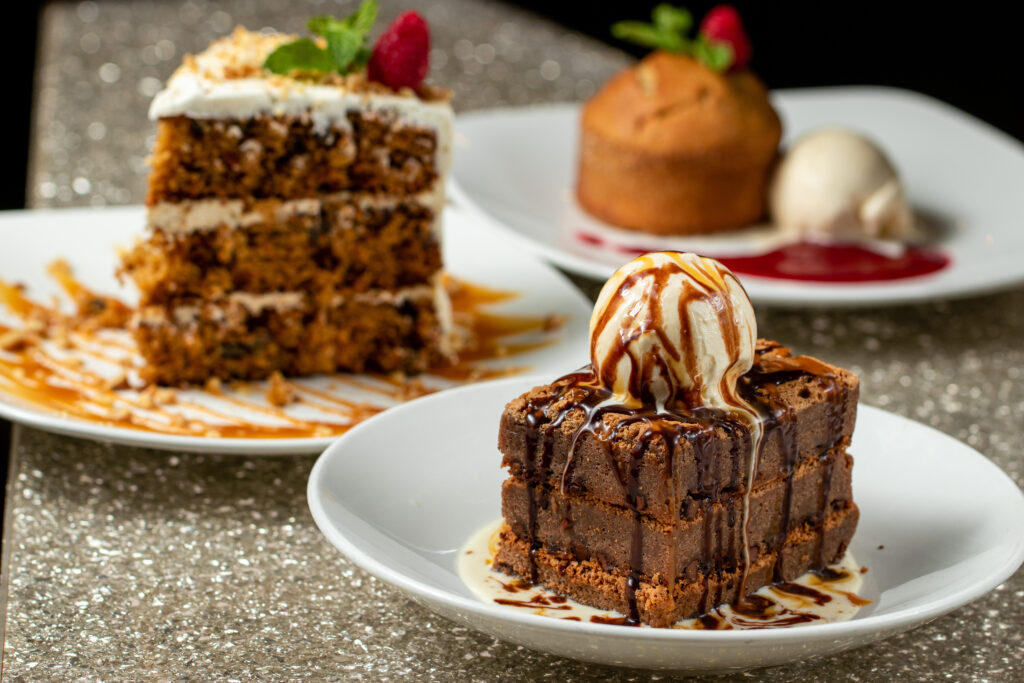 Halcyon, A Hotel in Cherry Creek: Chef Saura's Banana Split at Local Jones, with banana custard, whipped cream, peanuts, strawberry ice cream, with a cherry on top! It's light, refreshing, and nostalgic. Chef Saura's Banana Split brings you right back to summers of years past with a refined and elevated twist.
____
Guidebook
801 Chophouse 3000 E 1st Avenue / 303.24.6474  / 801chophouse.com
Kona Grill 3000 E 1st Avenue / 720.798.3447 / konagrill.com
Halcyon 245 Columbine Street / 720.772.5000 / halcyonhotelcherrycreek.com
Toro Latin Kitchen & Lounge 150 Clayton Lane / 303.253.3000  / torodenver.com
Urban Egg 3033 E 1st Avenue / 720.798.3447 / urbaneggeatery.com
Narrative 222 Milwaukee Street /720.571.8080 / narrativecherrycreek.com
Jax Fish House & Oyster Bar 650 South Colorado Blvd / 303.756.6449 / jaxfishhouse.com