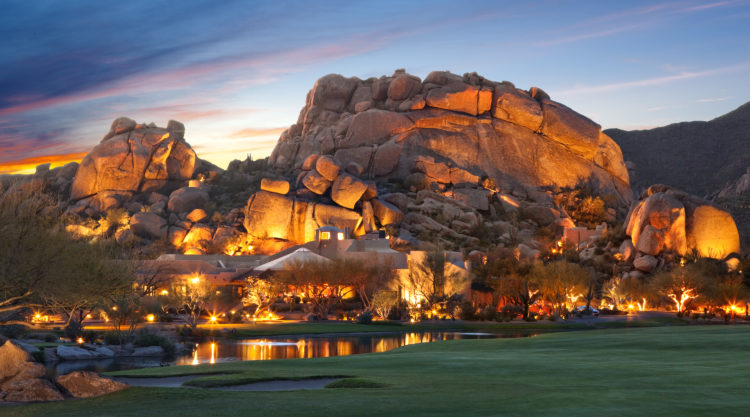 Travel
Scottsdale
From the towering Saguaros to the tony resorts, Scottsdale is a desert haven brimming with old west charm.  Once the playground to the likes of Jacqueline Kennedy, Natalie Wood, and Marilyn Monroe, today's version is a far cry from the sleepy oasis of years past. With a nightlife as cosmopolitan as its fashion scene and spa offerings as chic as the eateries that dot its downtown, this Scottsdale is all grown up.
Stay
If you're looking for unadulterated R&R, there's no better escape than the Four Seasons Resort. Situated in the heart of the Sonoran Desert in the upscale Troon North enclave, the property was once the location of Crescent Moon Ranch, a finishing school for wealthy debutantes operated by a member of Kellogg family. Today, the resort boasts over 200 guest rooms brimming with southwestern spirit. Larger casita suites offer seclusion by way of private plunge pools and most have wood-burning chimineas on patios that look out on miles of desert and open sky.
With access to Troon Golf Club and the bucket list Pinnacle and Monument 18-hole courses, Four Seasons leaves the links lover wanting for nothing. Or laze the afternoon away poolside where sun butlers serve the likes of popsicles, smoothies and more on the hour every hour. Those looking for a peaceful moment will appreciate the smaller adult only pool while those with little ones in tow can opt for a smaller children's version or the expansive free form bi-level main pool – all with sweeping desert views.  Hint: book a private cabana and enjoy your own personal attendant, flat screen television, iPad and sound system. At night, stargaze with the resort's professional astronomer, who offers a lesson in the solar system under some of the most stunning skies on the planet. Or for the ultimate romantic rendezvous, book a "Celestial Picnic." Staffers will set up a lavish display on a secluded lawn prime for stargazing and complete with a telescope and bottle of champagne.
In grand Scottsdale style, the Spa at the Four Seasons offers the amenities one would expect (and then some) – steam, sauna and a full service menu of Sonoran inspired treatments. Opt for the Prickly Pear Renewal, a relaxing scrub and rubdown that's perfect for dry desert skin. Also book a Golfer's Massage, where warmed golf balls and stretching techniques knead tight muscles and ease the stiffness from your swing.
Equally impressive are the resort's dining options. With three distinctive restaurants plus a swanky bar, there's something for every tastebud. Proof serves up an inventive twist on comfort food in an Americana-inspired atmosphere. An old-fashioned soda fountain offers to-die-for milkshakes and malts and the cocktail menu focuses on small-batch distilleries and microbrews. Talavera is the property's fine dining restaurant, a modern take on the southwestern steakhouse. Locally sourced ingredients and a knowledgeable sommelier add up to an experience that will linger in your memory long after the tan lines fade. The chef's tasting menu is a true culinary journey, allowing a guest to experience the restaurants full repertoire and authentic sense of place, along with perfectly paired wines for each of the six courses. For those wanting a more casual option, the poolside Saguaro Blossom doesn't disappoint, or find a seat in Onyx Bar and Lounge and join the jetset cocktail culture.
If the serenity of the wide-open desert is less your scene than say, a scene, Old Town Scottsdale has plenty of inns from which to choose. Try the colorful Saguaro Hotel, which manages to evoke an oasis-like feeling in the heart of the bustling town. The property is as trendy as they come, and offers cruiser bikes for guests to exploring the neighborhood al fresco.
Play
There's no destination more perfectly suited for doing everything or doing nothing at all. Chameleon-like in its offerings, Scottsdale offers loads of adventure for the outdoor enthusiast. Hiking Camelback Mountain is a time honored Arizona tradition, with views of posh Paradise Valley and the stately homes that grace its basin. Or see the sites from above. Scottsdale is well known for its hot air ballooning that take guests up, up and away for a tour of the Sonoran Desert before landing and in grand French tradition, indulging in a champagne brunch.
See
Architecture aficionados will want to make the Scottsdale trek to take in the abundance of Frank Lloyd Wright projects, if for no other reason. In particular, head to Taliesin West. The structural gem that once stood as Wright's winter home is now home to his foundation and eponymous architecture school. Steeped in modern goodness and nestled in the foothills of the McDowell Mountains, it's a genuine treat for Wright devotees who can revel in his sunken living room and imagine the conversations that once took place in the innovative space. A variety of tours are available, from deserts walks along the 491-acre preserve to a showcase of Wright's private collections.
Spa
It's tough to go wrong if your goal is tranquility by way of a world-class spa. Scottsdale has, quite literally, hundreds from which to choose. Well & Being at Fairmont Scottsdale Princess boasts a rooftop pool, natural stone waterfalls and a nice blend of out-of-the-box fitness classes (think aerial hammock yoga) and top-of-the-line spa treatments. Nearby, Joya Spa at the Omni Montelucia is one of Paradise Valley's must-visit destinations. We love the Moroccan-inspired "rituals" – try the 80-minute Restorative Sleep version, which centers on reflexology and aromatherapy. For the purist, the well-known and well-loved Spa at The Boulders Resort is a tried and true option. While its well-appointed space is certainly impressive (steam, sauna, whirlpool, relaxation room, café), the quality of therapists – most of whom are industry veterans – and the jaw dropping landscape in the heart of the desert are the true stars.
Dine
Scottsdale's dining scene is one of the hottest in the country, with countless foodie havens opening year after year. Hush Public House delivers big flavors in its small Kierland Commons space. Crab Hush Puppies, Soba Noodles, Macaroni Au Gratin – the menu is as eclectic as it is tasty.  Virtu Honest Craft is another can't miss eatery, and has gained ample accolades both locally and nationally since first opening in 2013. The James Beard Award nominated Chef Gio Osso makes arguably the valley's best pasta (try the Gnocchi), but everything on the elegant menu  – from Branzino to brunch – is delightful. Atlas Bistro has been a Scottsdale favorite for years, and with good reason. Chef Cory Oppold's fare is beautiful, original and downright delicious.  Dishes such as poached pear with house-made ricotta and halibut with house-made udon noodles will have you talking about this meal long after it is done.