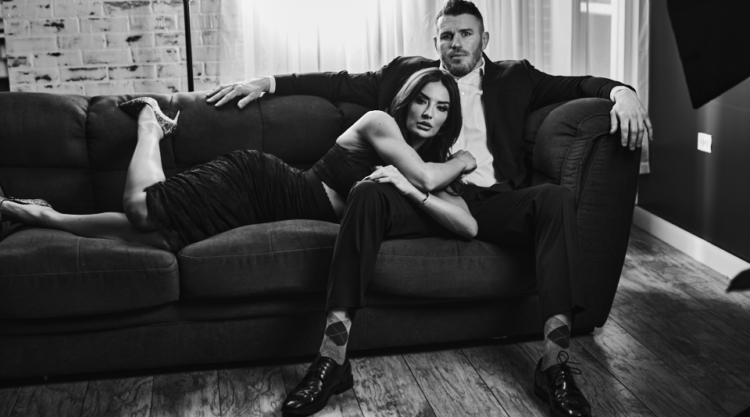 People
Power Couple
"Sometimes I want to throw my phone away and move to a cabin in Montana with no Wi-Fi."
Whitney Johns sits on a black leather sofa in her Cherry Creek North residence, clad in light blue camouflage pants, a white, light-weight zip-up, and spotlessly clean North Carolina Tar Heel-themed Air Jordans on her feet. It's a lazy Saturday morning, and that's the only "lazy" moniker that the 36-year-old health and fitness influencer could possibly be linked to.
The Boise, Idaho, native has been an undeniable force in the fitness and wellness industry for seven years now. She's a coach, an entrepreneur, and a model, whose Whitney Johns Nutrition supplement line and Fit With Whit exercise platform span worldwide and are accompanied with nearly a million followers on social media. However, it's the man sitting next to her on the sofa who might serve as her biggest supporter.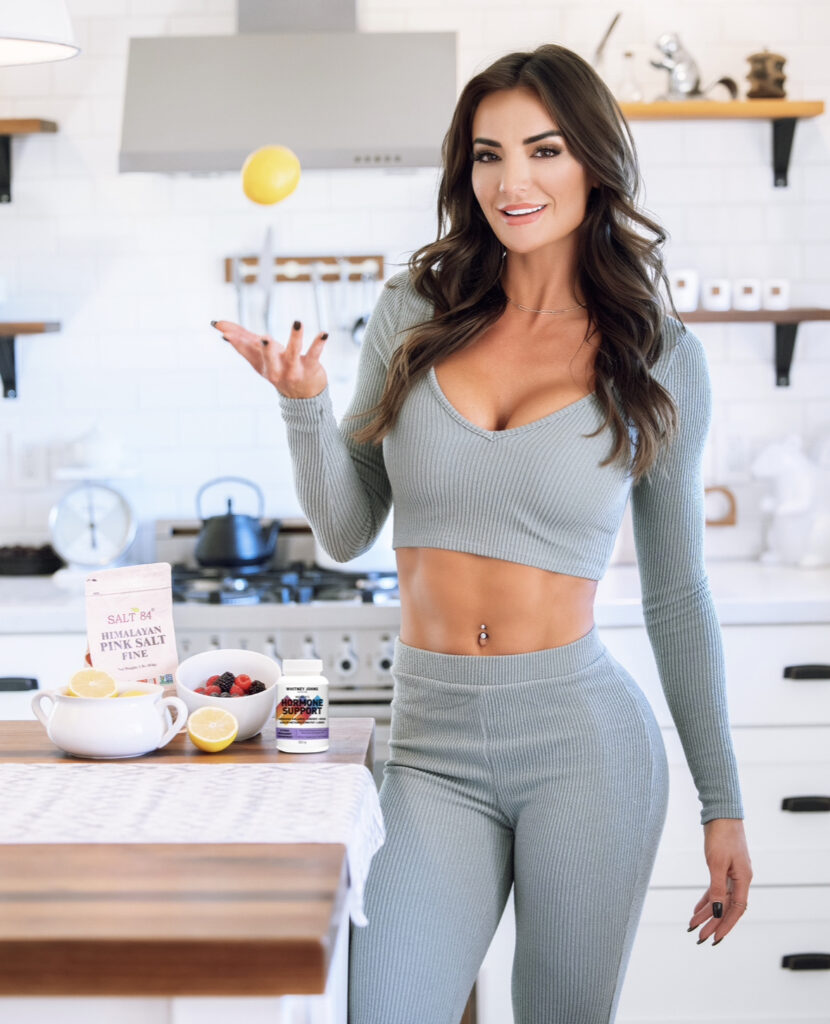 Meet Chris Camozzi. The 17-year MMA, kickboxing and bareknuckle boxing veteran is a brand in himself, having entered the ring in over 20 countries. A black belt in jiu-jitsu, the 6'3, 220 pound Denver native looks the part. Built like a modern-day gladiator with tattoos adorning his chiseled frame, if there was a Brad Pitt-inspired Fight Club in Cherry Creek, Camozzi would be first in line, and last to lose.
However, outside the ring, Camozzi is as friendly and mild-mannered as can be, undoubtedly two of the alluring characteristics that attracted Johns to him when they began dating three years ago.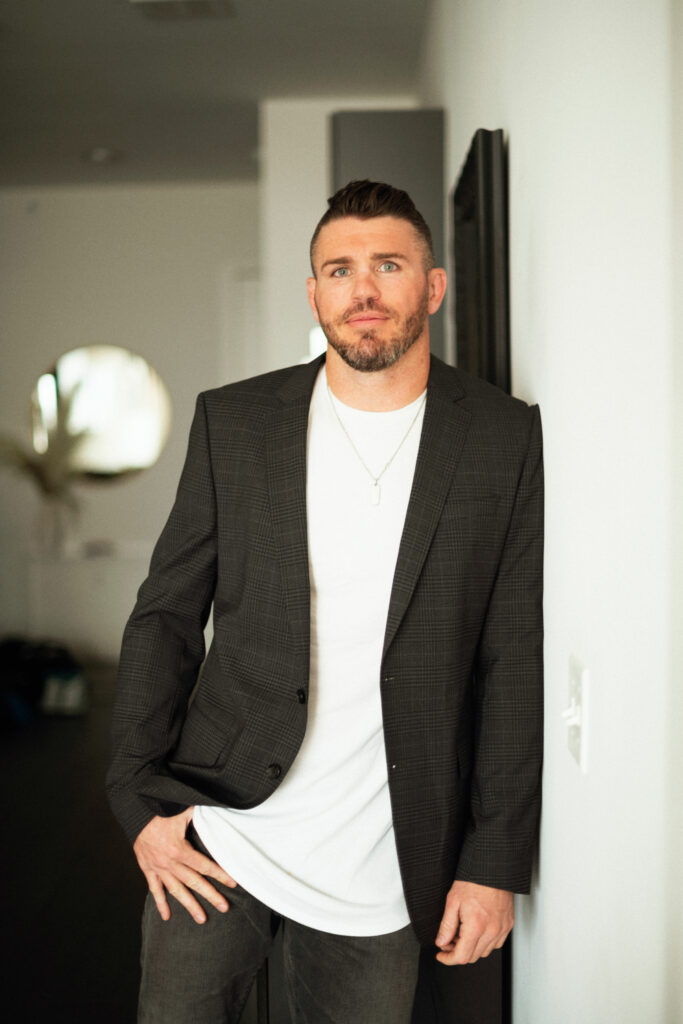 So, how did the beauty end up with the beast? 
Johns and Camozzi laugh in unison when posed with the question, so you know a good story is coming. Credit Chris' lack of technological skills. In this case, he failed miserably in sending a DM to its intended recipient, and that was the serendipitous flame that started the eventual fire with Johns.
"We met through Fit Soda, a mutual sponsor," Whitney begins with a smile. "The owner sent Chris one of my stories and Chris accidentally responded to me instead of his friend and said, 'She's so hot. I can't handle it!' An hour later, he realizes his mistake and messages me, 'Sorry. That wasn't meant for you.' The first time I read that, I thought, 'What a player. He's trying to pretend like he didn't mean to DM me.' But then I started looking at his pictures and he seemed like a very genuine person, so I wrote him back." Cue the budding long distance romance with Whitney in Los Angeles and Chris in Denver. Hour long conversations and FaceTime sessions manifested into an in-person get together. 
As Johns puts it, "Let's see if we actually like each other in person." Back-and-forth trips to California and Colorado ultimately gave way to Whitney moving to Denver, "But not for Chris," she says with a laugh. "It was great timing," she continues, "because it was mid-pandemic and I had to get out of L.A. It was so dangerous with the BLM riots and buildings set on fire. It was crazy Gotham City crime and it was everywhere. I just wanted to live somewhere safe, nice, clean and a little boujee," she explains with another laugh.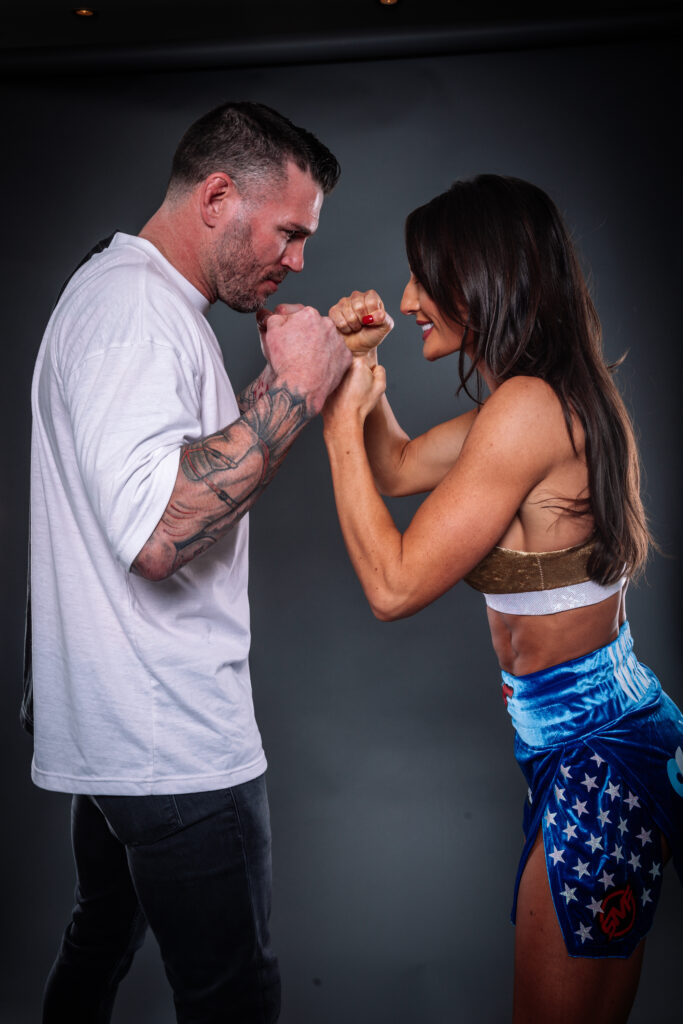 Hello Cherry Creek North. It's everything Whitney Johns was looking for. She'd visited Denver five years ago and went shopping at the mall and walked the neighborhood thinking, "I could totally live here."  Now she is, with Chris, walking the neighborhood with their Husky/Australian Shepherd-mix named Sofia, and enjoying the likes of Garbarini for clothes and accessories, and Cherry Creek Grill and True Food Kitchen for some yummy dining options.
They're remarkably attuned to one another. Most couples avoid working together like the plague, but, by the sound of it, Johns and Camozzi have embraced it as though they invented the idea. "We live the same lifestyle," Whitney shares. "We understand each other and what comes with living a very fit lifestyle. You have to have someone who gets it  – who knows the level of training that's required and is equally committed."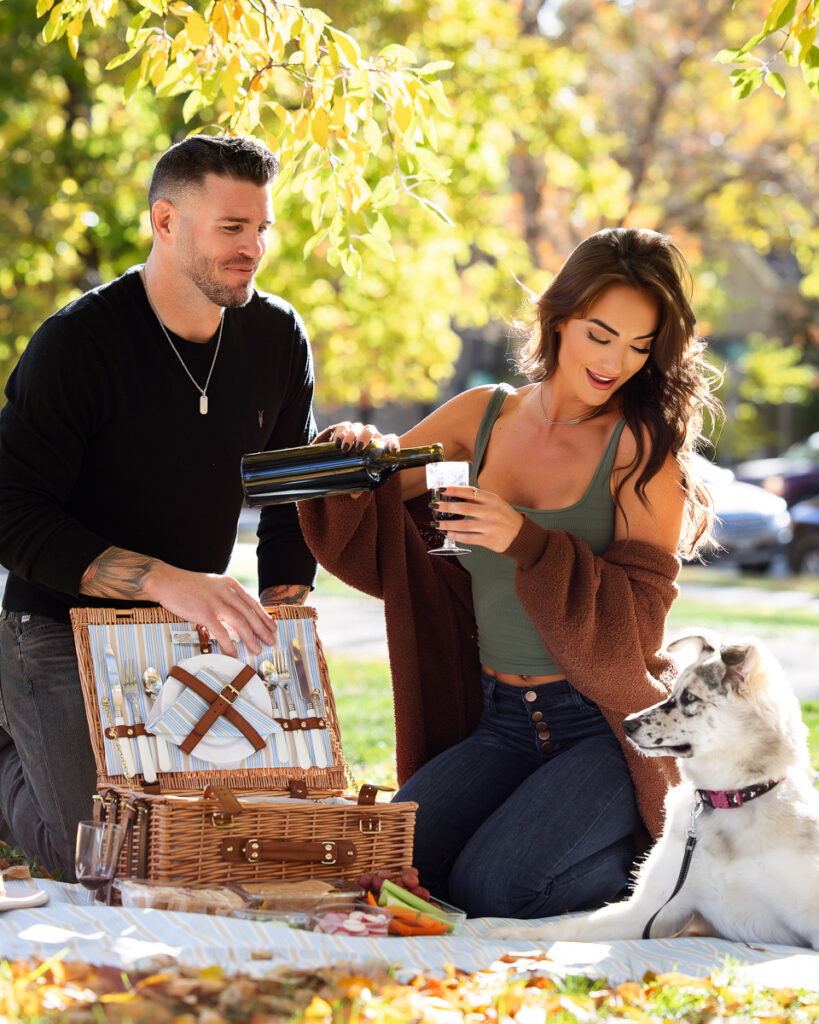 Camozzi adds, "We work out together. We live together. We eat the same things. We're super compatible and we don't really ever fight."
"Yeah. It's kind of weird," Johns chimes in. "We both come from dysfunctional relationships, so we don't step on each other's toes."
Camozzi continues, "When I train her, she takes it all in. She doesn't have an ego and she's very good at listening and following directions. She's been a personal trainer forever, so she also teaches me stuff when we lift weights."
Johns recently was part of a celebrity influencer boxing tournament across the pond in both London and Ireland, and Camozzi trained her every step of the way. After one of the matches, an Instagram message between the two referenced the "crazy life" that they've chosen together.
So, I asked these two peas in a pod what their definition of a crazy life entails.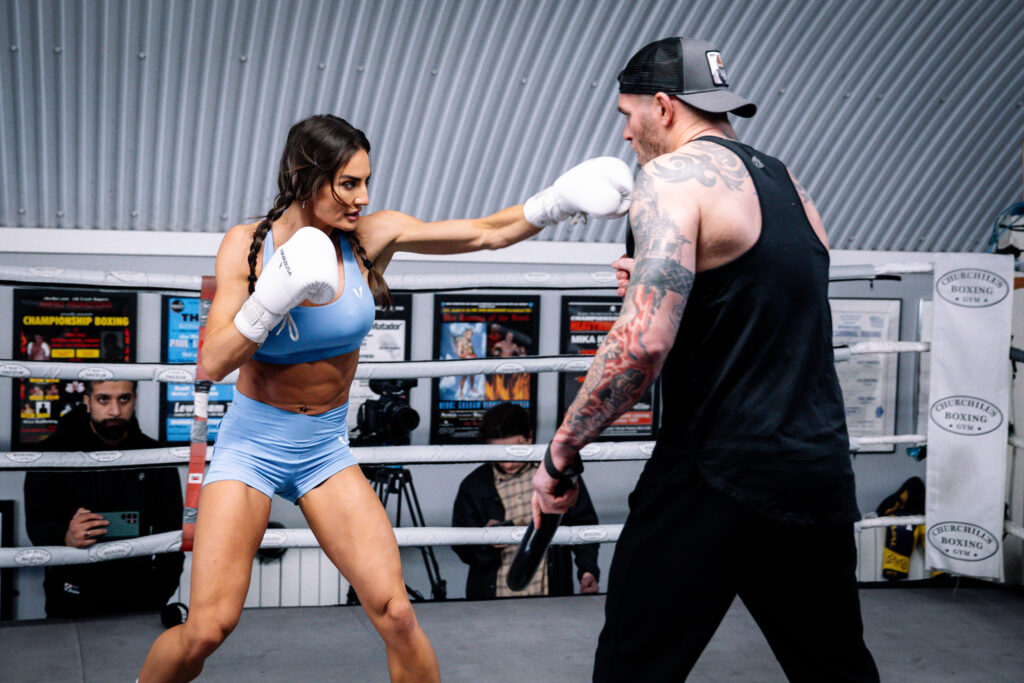 "We're both entrepreneurs who work for ourselves," Whitney starts out. "And we have this restlessness for adventure where we're not afraid of risk or danger or going for it. It's a YOLO (You Only Live Once) mentality in squeezing the juice out of this life and finding different ways to elevate. It's not the normal 9-to-5 day, and we're not married with kids yet, so we're on our own path. I don't know too many people who would volunteer to get punched in the face or put themselves out there like that. We seize opportunities when they come up, we travel spur of the moment, and we get up and go."
And they're always getting up and going somewhere.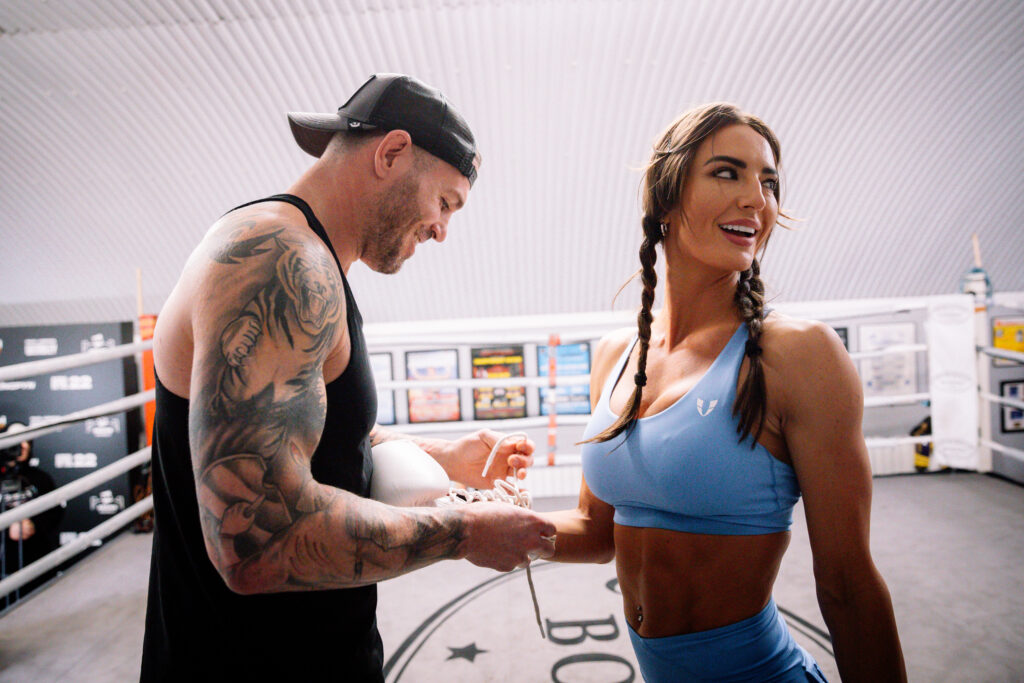 An average day starts at 5:30 a.m. to get across town for a 7 a.m. workout, their first of the day. From there, Camozzi goes to the office in Golden, at the aforementioned Fit Soda, where he oversees the marketing, branding and athlete sponsorships for the nationwide all-natural, sugar-free soda alternative. He also hosts the Fit Soda Media podcast, Brawl Street Journal, where he shares his fight stories and experiences, conducts interviews, and highlights the sport in general. In the afternoon, Chris will work out a second time or teach others in the art of jiu-jitsu or tend to his tutorial app, Jiu-Jitsu On The Go, before coming home. 
Meanwhile, Whitney's days are spent shooting social media and video content, updating coaching plans, working on her supplement line with her team, and following up her morning workout with an afternoon one as well, focusing on sparring, mitts or boxing.
"By 8 p.m., we're both ready to just eat and chill," Johns admits.
Eating is obviously more crucial with these two than, say, an accountant. The amount of energy and calories that Johns and Camozzi are burning each day is dizzying, so bring on the feast. Not quite. Normally, it's as clean of eating as you'll find. My Fit Foods is a sponsor of theirs, so that array of healthy fare is their go-to for lunches on most days, and dinners fall in the range of bison, steamed greens, and rice.
"It's boring," says Camozzi with a smile, "but we like it. We go through a rotation of eating the same thing."
Whitney adds, "Our palates are similar. He's been fighting and I've been doing body building for so long that you just get used to eating for the nutrients. We don't need rich meals every single night. Plus, if you don't eat clean then your performance suffers or you get inflammation and then injuries come. You just don't operate at your best."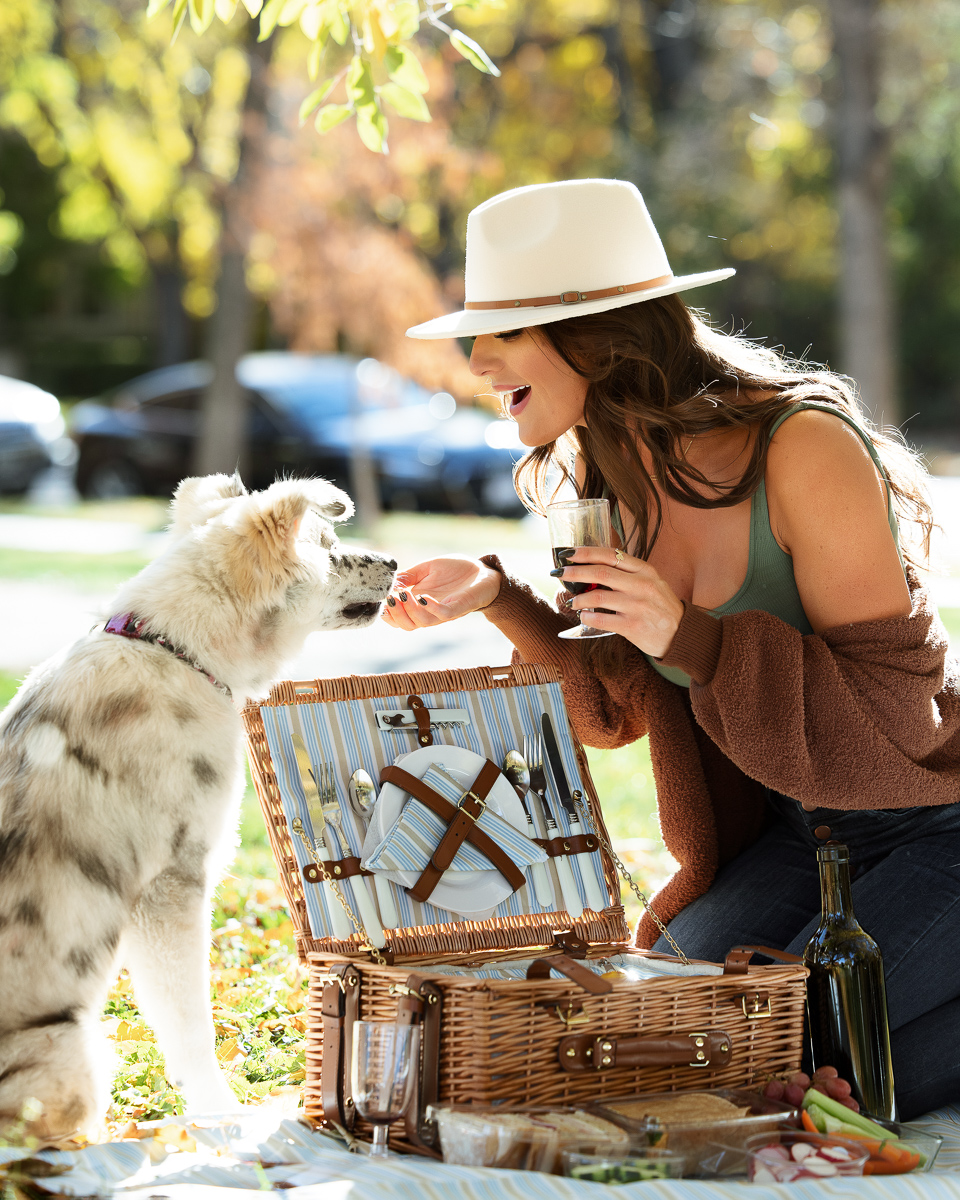 However, it's not always boring, tasteless health food. This morning, before the interview, they had doughnuts. And they love their burgers, "Del Frisco's Grille does a really good cheeseburger," they profess. "And Matsuhisa is another favorite," Whitney says excitedly. "The gin martini with cilantro is so good!"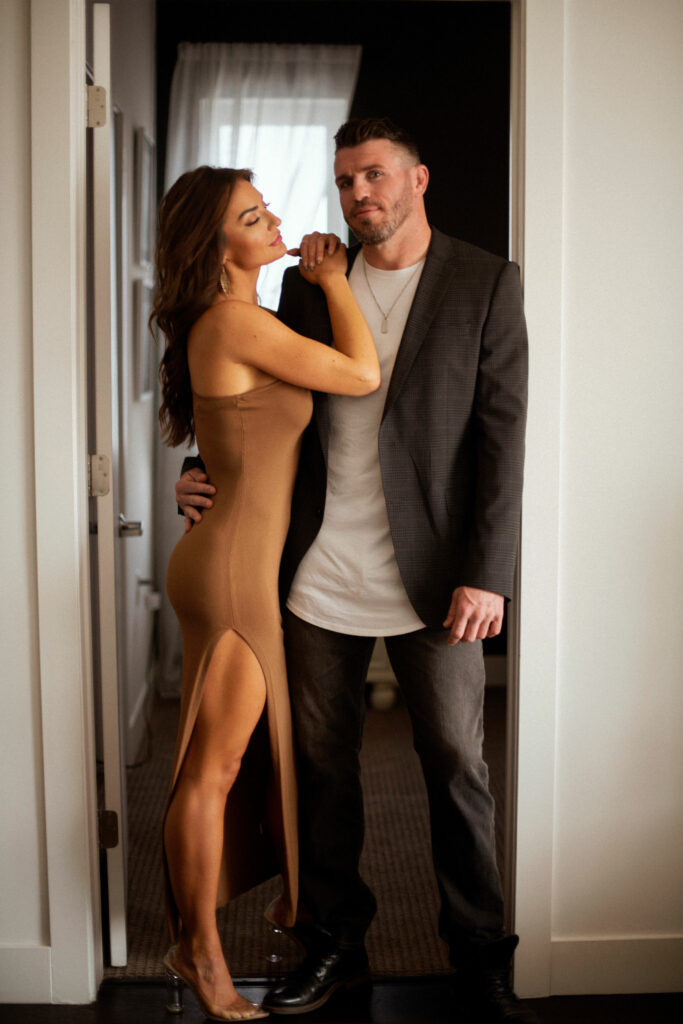 What you might not guess is that Whitney eats more than Chris does on most days. Camozzi shares, "On one of our first dinner dates, she got a 16-ounce steak with potatoes and macaroni, and I was shocked. She finished all of it and I thought, 'This is going to be an expensive girlfriend," as Whitney gives a big laugh.
Johns hasn't always laughed so often and so effortlessly. Growing up, she suffered from chronic pain and migraines and, as she would end up researching, it stemmed from a combination of diet and nutrition, muscle imbalances, and childhood trauma. "I was an old woman in a young girl's body," she concedes, "so I got super nerdy with my research and training and the difference was night and day. It turned out to be my calling. I asked myself, 'What would I do for free? What am I really passionate about?"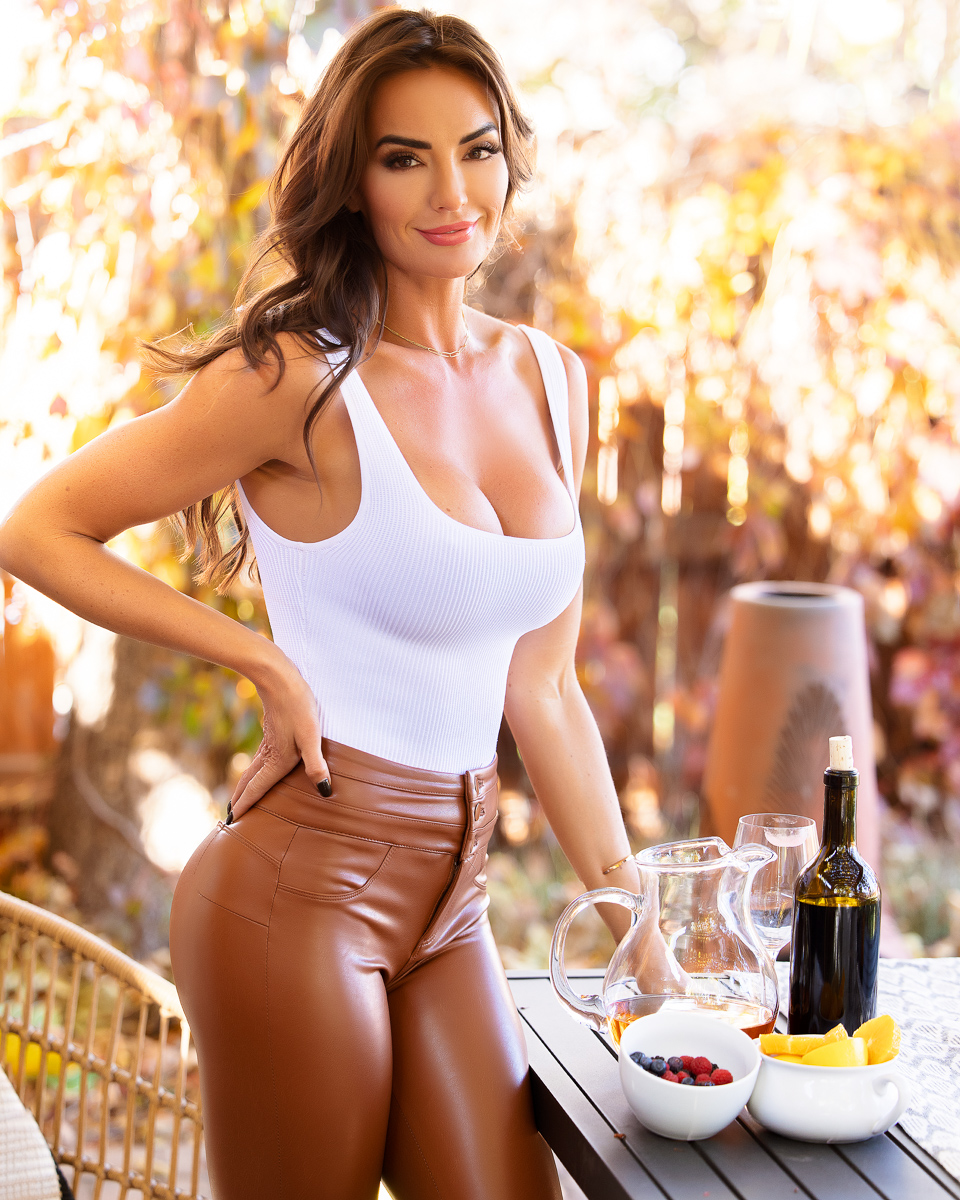 Her Fit With Whit program started out as an in-person, one-on-one training session before she created an app that helped her work with clients everywhere. It's a personalized workout program that breaks everything down on a daily basis for goals, diet, and online coaching. Her supplement line, which launched last spring, is a project near and dear to her heart that allows her to help women avoid making the wrong decisions when it comes to taking care of their health. She has partnered with a company that has over 100 clinical studies and over 20 years of scientific research, replete with existing formulations that are all centric to women's hormone health, heart health and mental/brain health. 
Johns is also excited to be coming out with a gut health product as well. "Coming from the fitness world like body building, I can tell you that there is a lot of crap out there with scam products and things that aren't healthy for your body. As a coach, it's very important that I spread the word about hormone, mental, and gut health. If you don't have these things in check then your fitness mission is going to tank at some point, so let's find a more sustainable way to get to your goal for looking the way you want and feeling really good."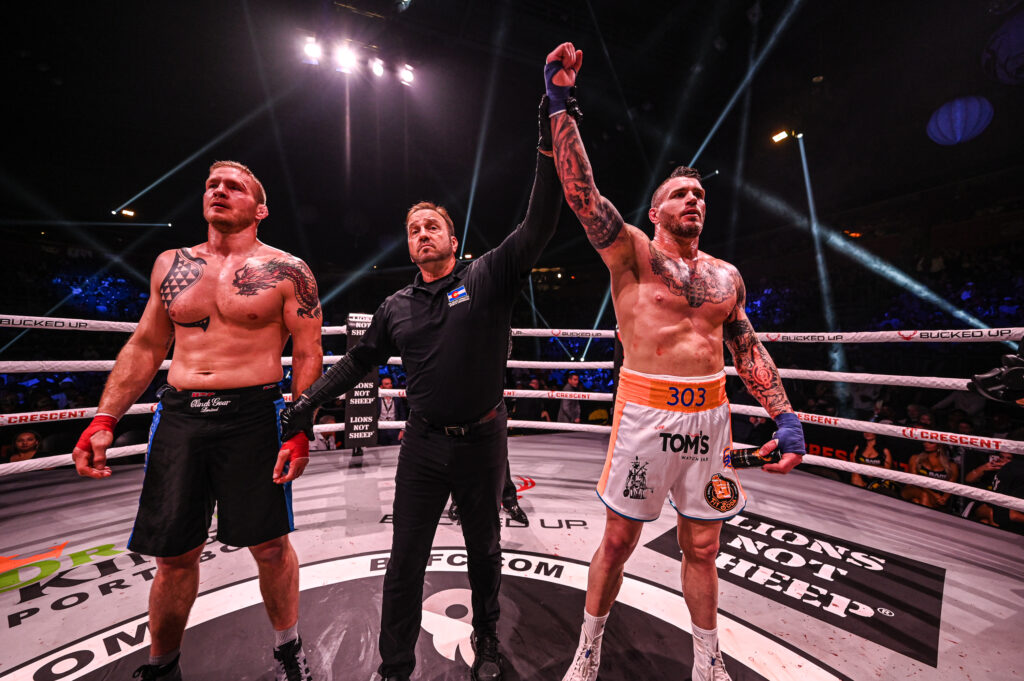 Speaking of feeling really good, Camozzi's fight game of late has attracted all the right kinds of attention, with quick and convincing knockouts that now have him fighting for the bare knuckle world title on September 22nd. Not bad for the 36-year-old who seems to be getting better with age. A recent Instagram post to his nearly 88,000 followers was short and to the point, reading "17 years, 3 combat sports and just starting to hit my prime."
So, he feels like he's hitting his prime after all of these years of fighting. Is that normal? Why now and not, say, ten years ago? 
"I recently changed coaches and gyms to get a new look because sometimes things can get stagnant," he explains. "Also, maturity and mindset go a long way with how I'm feeling and how I'm fighting. Whitney has really helped me as well. The healthy lifestyle that we live has led to more success because I feel that when you're happy with your home life then it's a trickle-down effect that produces more confidence and more opportunities."
Fighting isn't all just physical strength and stamina. People might not realize this. It requires fascinating strategies for those who are successful in the sport, and Camozzi likens it to the game of chess, "You're always thinking several moves ahead. I'll throw certain punches that I know won't finish the fight or knock the guy out, but it's to create a response that I can log in my brain for later and use to my advantage. It's a much more intellectual game than people realize."
The misnomers about the fight industry are many. Camozzi has heard it all, while addressing some of the repeated stereotypes and assumptions regarding his craft…
>> The pro fighter who you think is terrible is better than you could imagine.
>> The pro with "no power" would hit you harder than you've ever been hit.
>> The dedication and time that it takes to hone your skills is never-ending.
>> Being a pro takes more time than any 9-to-5 job. It's exhausting and painful.
Chris poses the rhetorical question, "Have you ever planned a fight, trained for it, knew that your opponent was also training for months to hurt you, and then you showed up, and won?"
Whitney adds, "We put ourselves through hell. I didn't have to do that boxing tournaments overseas. I didn't need the money or the exposure. I wanted to challenge myself with eight months of crazy training, so let's do it! That's how you grow."
They're both looking at this chapter in their lives as one of their best. They're focused. They're disciplined. They're committed to creating the best versions of themselves. And during this time, their best advice to others is what they themselves are adhering to as well, "Take nothing personally," Whitney advises. "Live with no regrets," Chris shares.
And treat yourselves to doughnuts on Saturday mornings.
Follow along with Whitney and Chris VIA: 
+Whitney Johns: @whitneyjohns and @whitneyjohnsnutrition
+Chris Camozzi: @chriscamozzimma