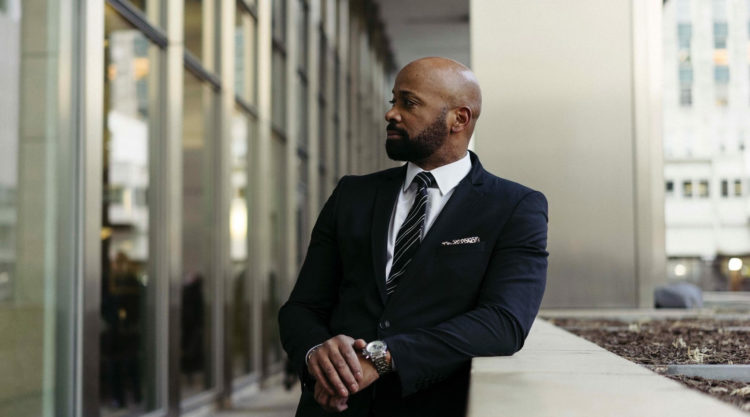 People
Man About Town
TONY JORDAN
STATE & LIBERTY
When State & Liberty opened on Fillmore Street late last year, it didn't just bring unrivaled bespoke fashions to Denver's men with athletic builds, it also brought a manager to Cherry Creek in Tony Jordan. Jordan's style, substance and strut were way too much for us to overlook, so we sat down with the Chicago native to learn about his favorite spots in Cherry Creek, his passion for fashion and whom you could expect to see at his ultimate dinner party.
What have you learned so far about the Cherry Creek neighborhood?
It's a vibrant area with folks who understand how to live life well. I've never seen more Olympic-ready octogenarians in one place in my life!
What kind of clientele are you encountering and what kind of fashion and style are they gravitating to?
At State & Liberty, we cater to the man whose lifestyle supports staying in top physical shape. That guy wants to feel as good as he looks. It's what allows him to be successful! We source beautiful fabrics from Europe and Asia to create clothing that has the specific fit usually only reserved for custom tailored clothing.
Favorite neighborhood haunts?
Aviano Coffee, Sol and Quality Italian are my go-to's. Elevated at the top of the Halcyon was fun on summer nights. Although I wear mostly State & Liberty gear, I grew up on luxury clothing. Hermès, Neiman Marcus and Nordstrom are always there for my essentials.
Best dressed celebrity, present?
Pierce Brosnan. It's like he only picks roles where he knows he'll be dressed in the best clothing!
Best dressed celebrity, past?
George Hamilton. Just like the famous Rat Pack, dressing like a gentleman in the best menswear says a lot about you.
What is your earliest men's fashion inspiration?
When I was 12-years-old, my dad gave me my first stack of GQ and Esquire magazines. He also taught me how to care for my clothes and shoes. I knew about fine wool and leathers from Italy and Spain before I was 14, thanks to him.
How did your passion begin?
As a teenage athlete, I was asked to model in runway shows sponsored  by luxury department stores and  boutiques. When I turned 16, one of those shops hired me and taught me how to sell Armani, Zegna and Canali. It has never stopped.
What looks are you particularly excited about for fall and winter?
Well-made turtleneck sweaters and breathable layered clothing. Topcoats made in performance cloth that keep you both warm and dry. Lace-up dress boots with Vibram soles.
Three must-have items that every man should have in his closet?
A great fall and winter topcoat is key. A navy blazer is more important than a suit. Last, but not least, cognac tan or brown loafers. The most versatile show you'll ever wear.
Five dream dinner party guests?
1) Anthony Bourdain, for great stories and to help me in the kitchen 2) Walter Payton – champions that are great with everyday people are rare 3) Marilyn Monroe – confident, gorgeous women are a lot of fun 4) Dizzy Gillespie – old school cool gives the room a certain chill 5) My late uncle Jimor Smith – a smooth Creole gentleman that could cook amazing food and converse with kings. Anthony would love time in the kitchen with him!
105 Fillmore Street
734.757.3534