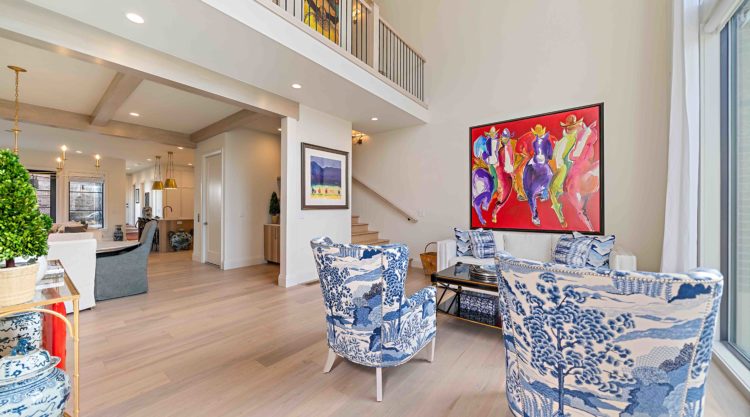 Home
Homecoming: Let There Be Light
When it came time for one of the city's leading design/build duos to craft a custom home of their own, the ultimate dream project unfurled. Having built residences in the area for more than 30 years, the husband-wife team behind Nicholas Custom Homes knew what they wanted in a place to call their own and they knew exactly where they wanted it – the charming streets of Cherry Creek North. Thus, the pair embarked on the journey of building their dream home, a stunning townhouse at 538 St. Paul Street one that is as timeless as it is on-trend.
"We were inspired by classic, timeless architecture," the homeowner explains. "We felt like there were too many modern style homes in Cherry Creek and really wanted to deviate from that." The end result is a stately, traditional brick beauty that spans three floors and more than 5,000 square-feet. In fact, the home offers more than eight feet of width over standard townhouses, allowing for a coveted three-car-garage and spacious, single-family feeling. What's more, the home boasts a private elevator that easily transports the homeowners to the rooftop deck, where sweeping views abound.
Inside, the home is replete with custom-curated designer finishes, making it stand out from the pack. While indeed traditional, the space is decidedly au currant with a graceful, open floor plan and bright, airy appointments that range from light oak floors to contemporary millwork, wrought iron window casings and satin brass light fixtures. "The clean design is bright and timeless, with a modern, open concept perfect for large crowds or for a quiet evening with family," the homeowner attests.
Perhaps the star of the home's design plan is the dramatic two-story living room and its floor to ceiling windows. The gallery-like space allows for plenty of natural light and is complemented by blue and white Chinoiserie fabrics and pottery – a pattern and palette that have been the designer's favorite since childhood. Throughout the home, colorful contemporary art fills the walls in perfectly fashion – each piece bringing its respective room to life. It's a collection that is remarkably curated and one that the homeowners have built throughout a lifetime of travels. "From the finishes, to the furnishings, to the art, we worked to achieve a minimalist style combined with traditional designs that bring both warmth and edginess to the home."