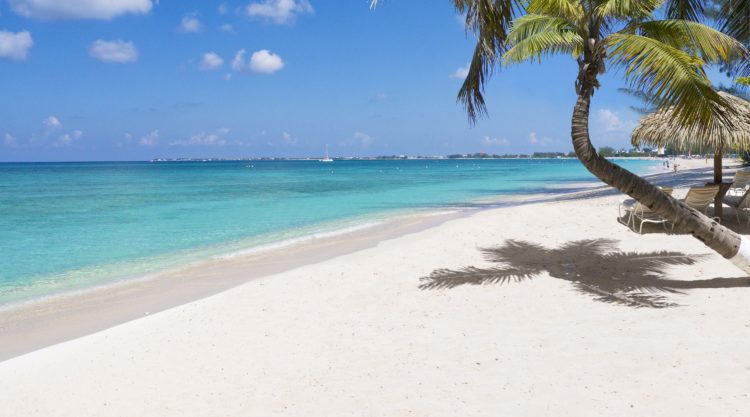 Travel
Grand Cayman
Wheels up at DIA unleashed a breathtaking Colorado canvas enveloped in snow white on this early morning in March.
This unfiltered masterpiece masked a frigid air that was consuming Denver at a clip of 19 degrees, not to mention the unwanted rudeness of an accompanying wind that chilled matters even further.
Color everyone giddy onboard this flight, and not the least bit guilt-ridden for escaping this Rocky Mountain freeze.
In a few hours, a new kingdom will play host to all that ails. A direct hop from Denver full of sun, sand, sea sparkle and serenity.
Two beautiful words that will reside with you forever: Grand Cayman.
Any time you wake up to Seven Mile Beach, you should count your blessings. Grand Cayman's world renowned stretch of sand and mesmerizing blue waters are a constant occupant on acclaimed travel lists as one of the top beaches on the planet.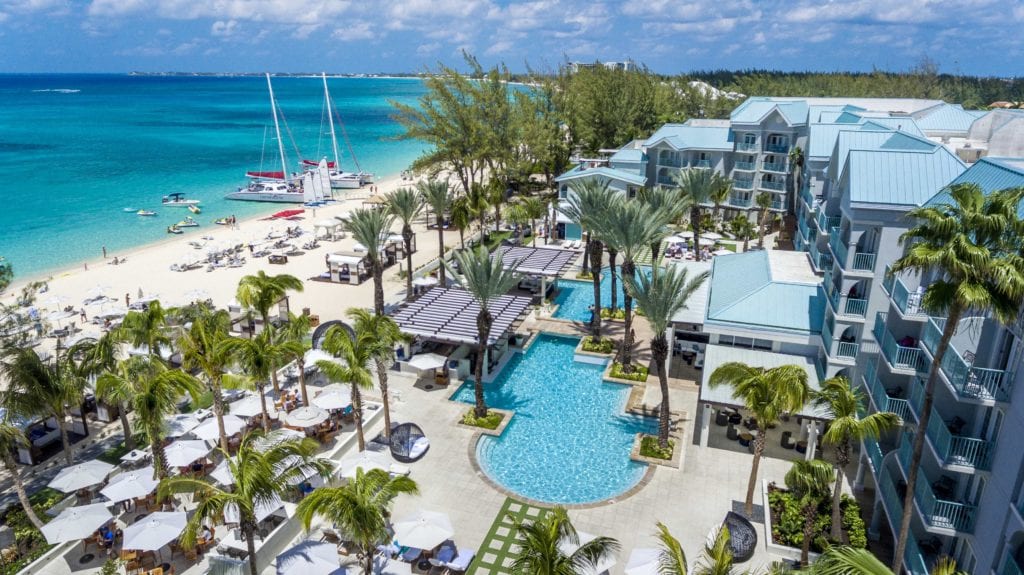 In this case, beauty isn't just skin deep because underneath lies a magical world that had me absolutely speechless, while stamping me with an indelible grin from ear-to-ear. Snorkeling that morning was life changing. The mode of transportation was equally invigorating – gliding across the Caribbean Sea on a wave runner, full throttle, going 50 miles per hour. One reason for the speed was to keep up with my guide, Melvin, a Nicaraguan gent with a penchant for circus tricks on his water sled that made me wonder if his calling wasn't with the X Games. I myself was trying to stay close while, more importantly, looking to avoid an L3/L4 spinal issue off the coast of this island Shangri-La.
Upon arrival to our intended spot, Melvin was off the wave runner and, following a quick splash, had transformed into a mermaid. To watch him dance with the fish was something out of a Disney movie. The morning light illuminated the shallow sea floor to such a mythical degree, that it felt like an out-of-body animated encounter. Colors popped from glowing coral and schools of fish, from blue and orange to yellow and purple. A nurse shark kept close to the floor while a 20-pound barracuda, thankfully minding its own business, passed through on its way to another party. Yellow tail and blue runner made casual appearances as well.
Had the trip ended there, I would have considered the experience a privilege. However, brunch at Luca was calling.
Located at the posh Caribbean Club on Seven Mile Beach, this Cayman dream just kept getting better. Luca is one of those restaurants that, for brunch, if they're not featuring it then the food item simply doesn't exist. So many options, so little time. Regardless, my eggs benedict, fresh fruit, scalloped potatoes, bacon, side salad and mini croissants all paired famously with a few glasses of Prosecco.
After a mid-day feast like that, a strategically planned 80-minute massage back at Westin Grand Cayman's Hibiscus Spa seemed apropos. The treatment was unforgettable as well as timely, having acquired a bit of soreness from screaming across the water at what seemed like Mach 10 speeds earlier that morning.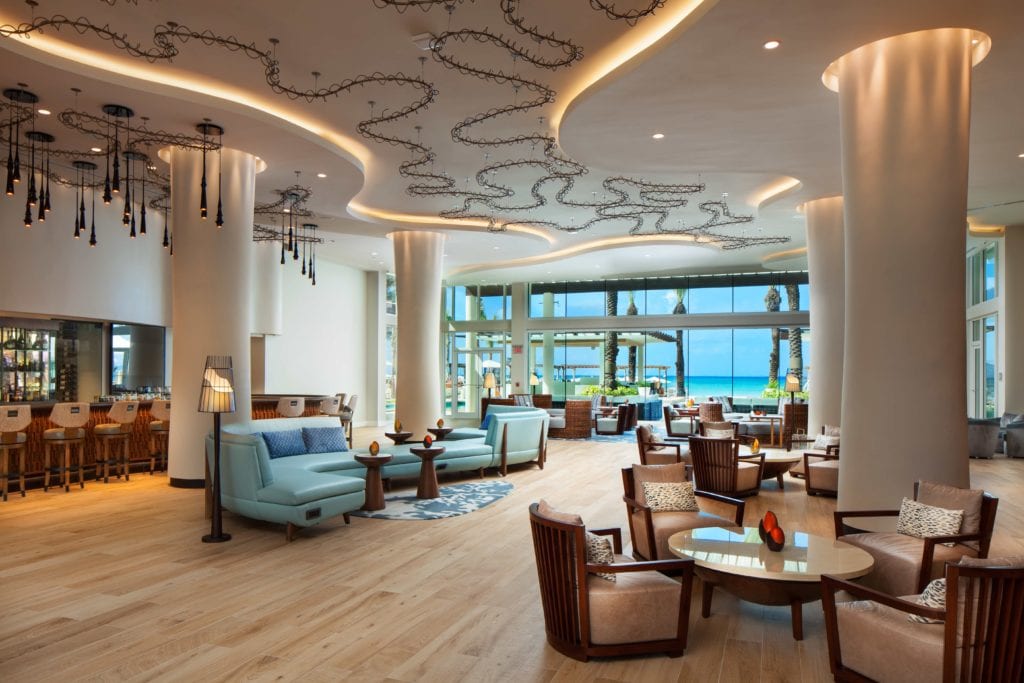 With time to kill before dinner, a self-guided tour of the Westin property was in order. A sparkling pool with a swim-up bar served as the obvious centerpiece, flanked by hot tubs, dining and relaxation areas before touching the sand with cabanas and lounges that flirt with the Caribbean Sea. You also have the heartbeat for all water activities with Red Sail Sports, whose organized and engaging staff set up everything from wave runners, stand up paddle boards and snorkeling to scuba diving, boat tours and fishing.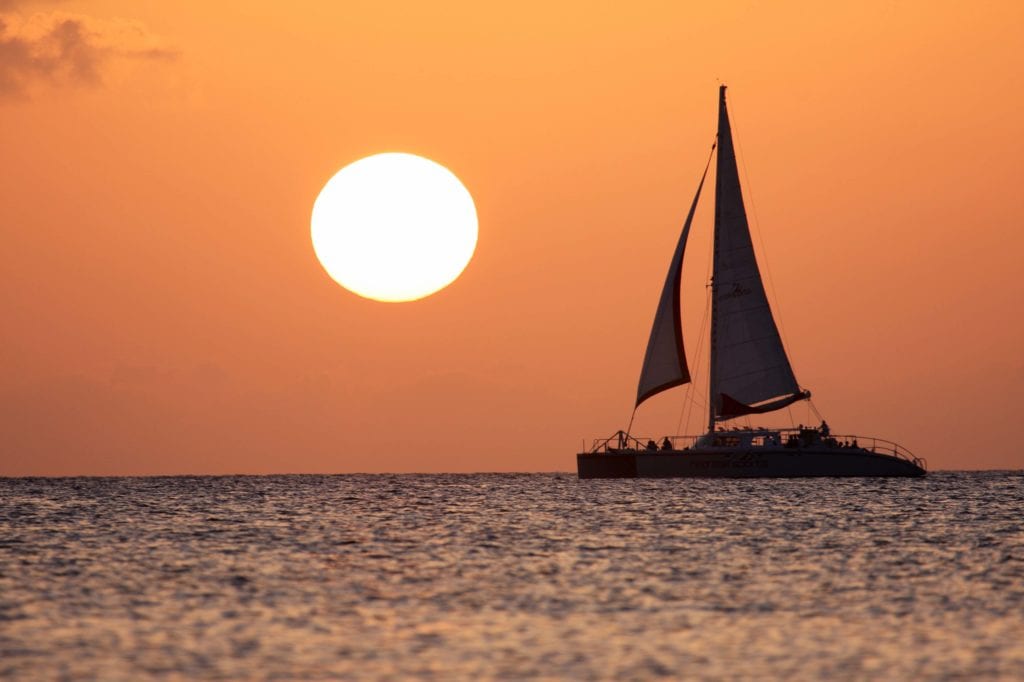 Dinner at Blue Cilantro ended up being a meal that still ranks as one of the stellar eating experiences that we've had anywhere, and a return to Grand Cayman would warrant a return to the restaurant "where East and West unite in taste." That's because Chef Vidyadhara Shetty, originally from Mumbai, India, has created so many scrumptious flavors and pairings that leave you wanting another seating as soon as humanly possible. Imagine every possible fish, fresh from that day, accompanied by the most incredible sauces you may or may not have ever conceived possible. Chicken, lamb, duck, Angus Beef cuts and hand-made pasta also highlight the experience. For me, it was like choosing one donut. So I didn't. I went for a dozen.
We dove into the spring rolls with goat cheese, corn, mushroom, baby spinach and plum sauce. A thorough investigation was done of Pork Two Ways – pulled baby back ribs and braised pork belly – which were guava marinated with ginger apple chutney, crackling and Vindaloo sauce. The dish was nothing short of amazing. Lobster ravioli with boursin cheese, truffle oil and pumpkin chorizo sauce seduced us into a third Cayman Lemonade – Ketel One, light rum, peach tree, fresh lime juice and cranberry juice. All the while, nan flatbread stuffed with black forest ham or roasted garlic or pepper jack cheese with dipping options like mango chutney, jalapeno or plum sauce had us ordering seconds and thirds. There is zero possibility of us having a better meal than what went down at Blue Cilantro. And the wine list was an all-star.
Sleep was a lay-up that evening.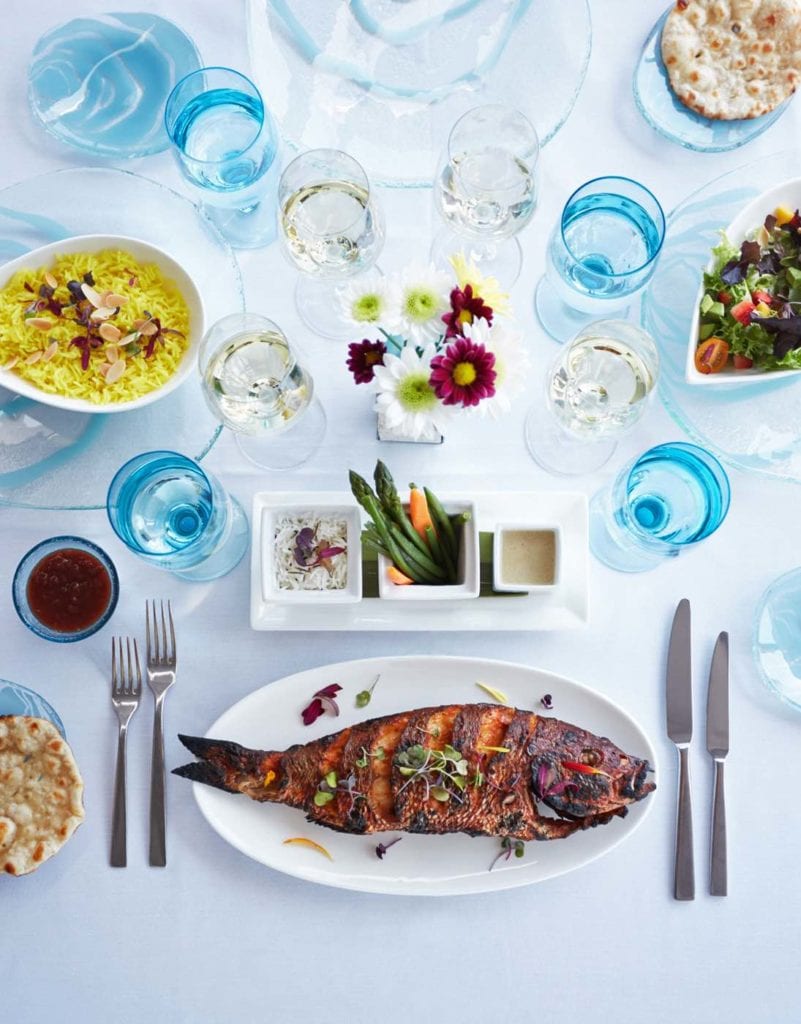 Sightseeing is highly encouraged on an island that is just 76 square miles – 22 miles long and an average of four miles wide. Whether it's an exhibition to the region's famous Crystal Caves, the Queen Elizabeth II Botanic Park or adjacent Blue Iguana Habitat, there's no shortage of local cultural attractions.
The Atlantis Submarine Dive, whether during the day or at night, reveals an underwater world of shipwrecks, fish life, coral reefs and beauty that's a rare and fascinating discovery most of the world will never experience.
Another must-do excursion is a catamaran ride with Red Sail Sports to Rum Point Beach. Tanning, lounging, lunch, snorkeling and unmatched beauty await at this quintessential paradise haven, surrounded by million-dollar beach front homes, sailboats, yachts and the cool ocean breeze as a steady and welcomed companion.
A lunch spot that is definitely worth the drive is Over the Edge Restaurant in the Old Man Bay section of Grand Cayman. Think sleepy waterfront roadhouse with an outside deck that inhales the stunning ocean views while joined by a gift of garlic shrimp, Cajun chicken, black beans, rice, plantains and two big ice cold glasses of Caybrew.
For dinner, our time at The Brasserie was so intoxicating, both literally and figuratively, that our group managed to lose track of time and we ended up closing the place. That's probably the best compliment that you could give a restaurant. It felt like home, but with much better food. I'm the guy who gets a grilled cheese for an appetizer with soft brie, white truffle and local guava jam before my New York Strip comes in with guns blazing and a remarkable poached egg and carrot top salsa verde on top. It was another unbelievable meal from the award-winning Chef Dean Max, who's also an author and Food Network veteran. With links to the finest local growers, their own kitchen garden, and their very own deep sea fishing boat that keeps things fresh every day, it's a must-visit in George Town.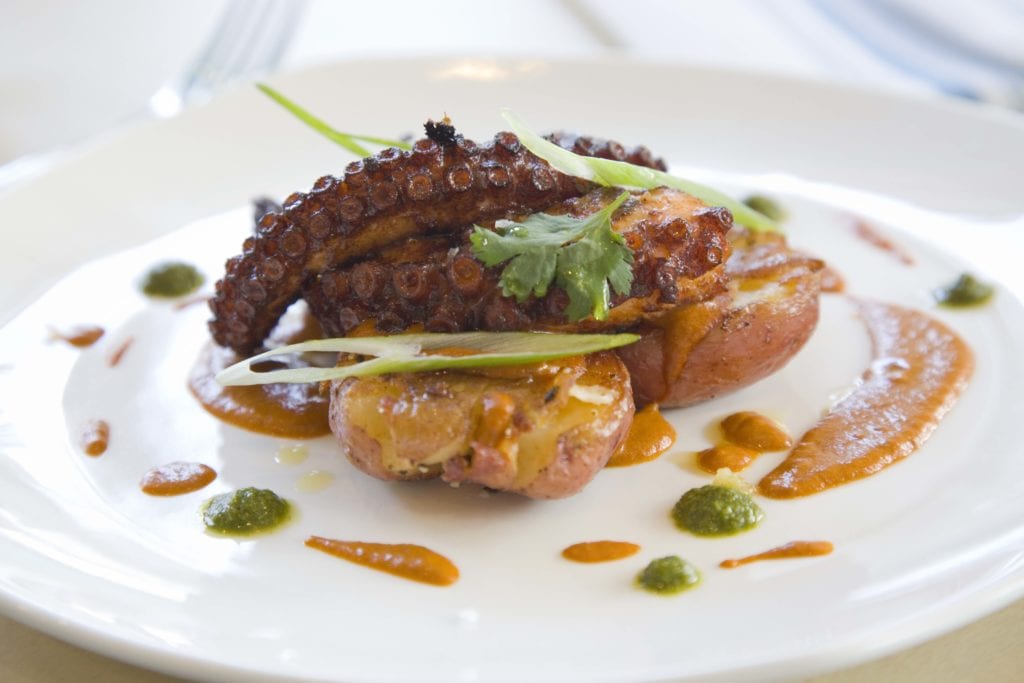 Time for some shopping? You bet. And Camana Bay is your destination. High end retailers, bars and restaurants comprise this gorgeous waterfront entertainment district. The neighborhood also features townhomes, condos and duplexes for when you fall in love with the island and might want a place of your own.
Camana Bay also puts you in touch with Agua, a fantastic seafood restaurant rooted in Italian tradition and inspired by Peruvian cuisine, showcasing the kind of menu that requires multiple visits to try everything that caught my eye. We feasted on Thai ceviche with the fresh catch of the day, chili, coconut lemon grass, cilantro crispy calamari and plantains as well as the burrata with soft cow's milk cheese, marinated tomato, balsamic, basil and grilled bread. Then it was time for pappardelle, made in-house, with lamb Bolognese and ricotta salata. A fusilli and cheese gratin with herbed bread crumbs was their incredible version of a mac and cheese that went superbly with our pinot noir.
I sure didn't leave Grand Cayman hungry. And I returned to Denver with a tan that was the envy of my friends in the Colorado winter.
Denver flies directly into Grand Cayman several times weekly via Cayman Airways. Total in flight time is 4 hours, 30 minutes.
More at: visitcaymanislands.com / @visitcaymanislands