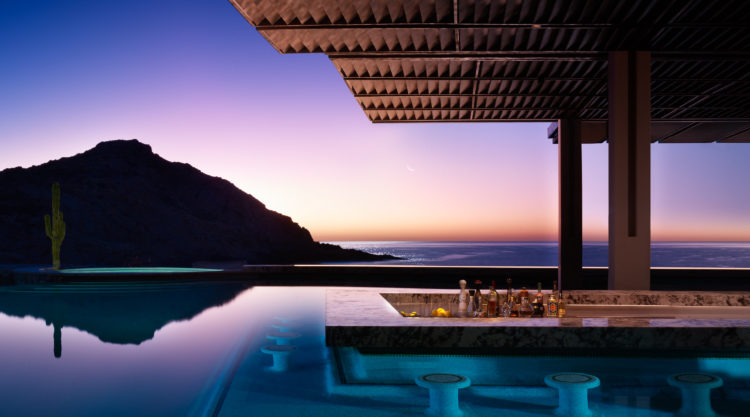 Travel
Montage Los Cabos
The glossy black Escalade hummed across the snaking desert highway towards the Sea of Cortez until the endless green blur of surrounding shrub and cacti gave way to the booming majestic blue of the coast.
Inside the Cadillac, tinted windows shielded the leather interior from the 94-degree mid-day sun, while moist lemon-scented towelettes and chilled water made a day of travel from Denver to Los Cabos, passing through customs, and our embarrassingly broken Spanish a distant memory.
As we headed south towards Cabo San Lucas, a renewed energy was brewing in restless anticipation of experiencing the newest Montage seaside paradise south of the border. Having already been pampered Montage-style over the years by its Laguna Beach, Beverly Hills and Deer Valley resorts, Montage Los Cabos had been a long-awaited daydream after the rumors swirled that the company was launching a new masterpiece down in Cabo.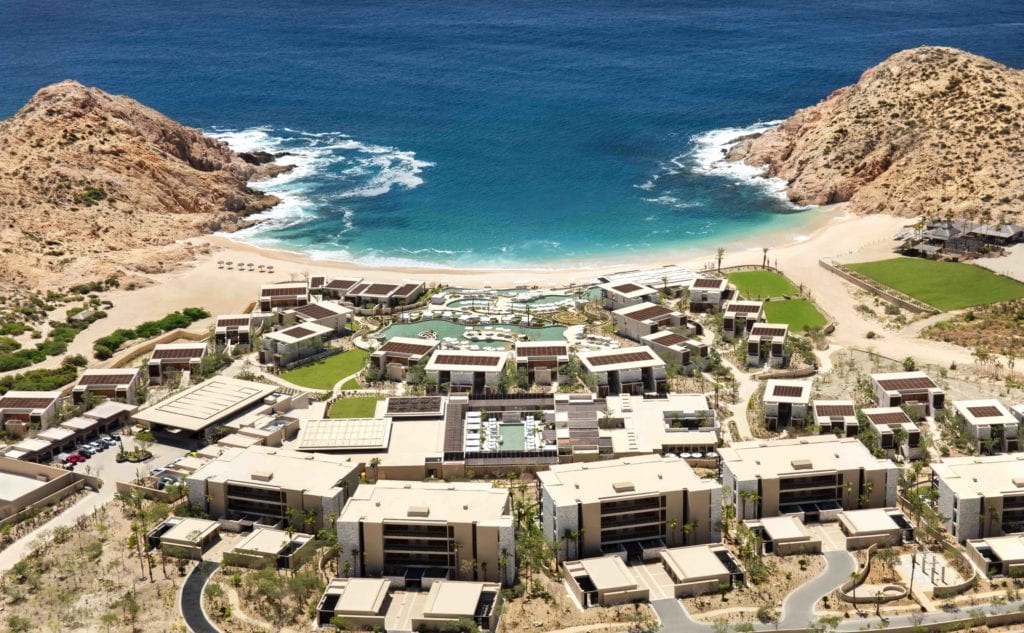 The coastal drive down Federal Highway 1 is always an entertaining tour of what hotels are moving in, who bought what, and there's George Clooney's old neighborhood or Sammy Hagar's home. This time around, fittingly appropriate coming from Denver, there was talk about Peyton Manning's favorite spot to escape.
As we enter the gates, you immediately notice the cactus-lined drive that serves as a prelude to a desert-themed landscape. With the resort now in view, earth tones, wood and stone greet us in a stunningly modern lobby appropriately dressed with floor-to-ceiling glass.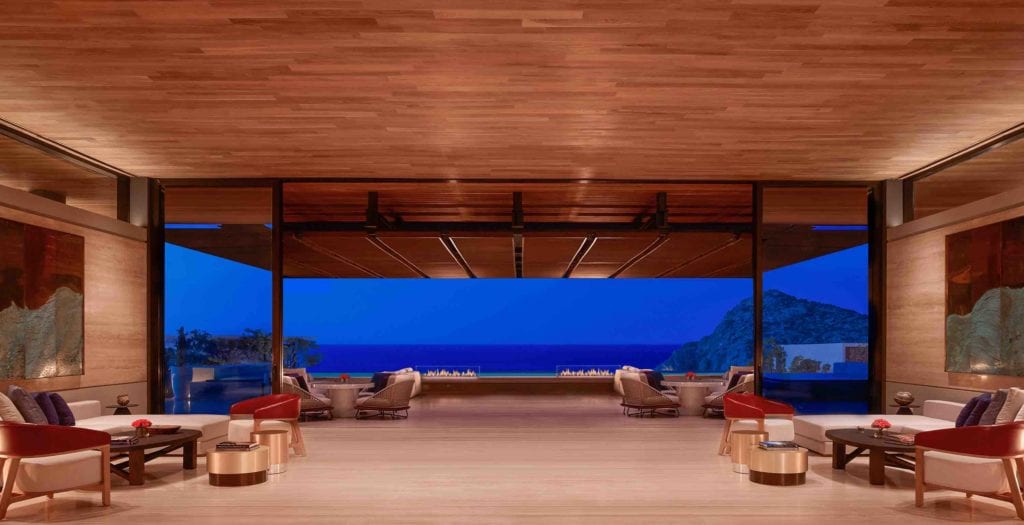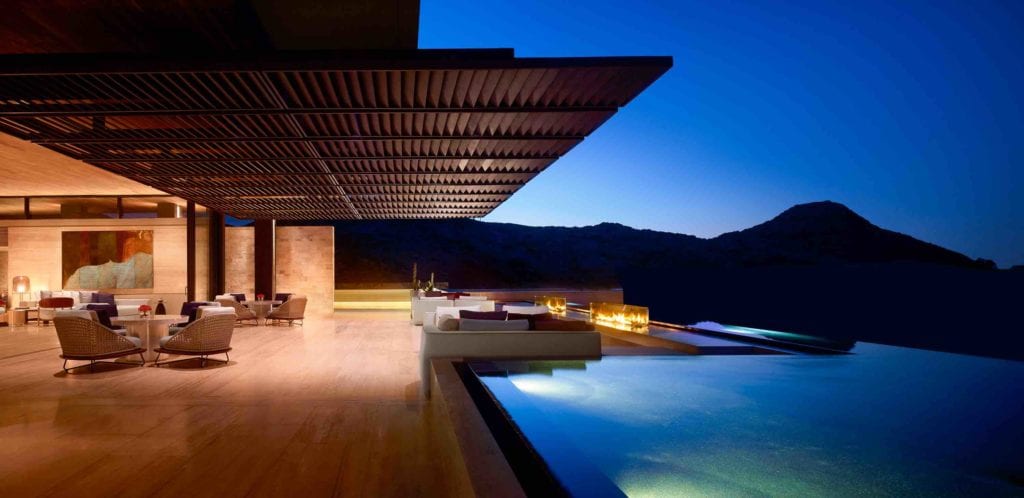 A welcoming Antonio is there upon our arrival with an engaging "Welcome Home," while bearing the ultimate gift – a heavenly blend of hibiscus water and mezcal with lime juice, basil and rimmed with a to-die-for Tajin powder.
With a second glass of liquid awesomeness for the walk to our room, we're reminded immediately of Montage's commitment to unmatched customer service and hospitality. Every staff member within eye sight stops, smiles and delivers the most sincere and warmest of receptions that the "Welcome Home" mentality really starts to sink in.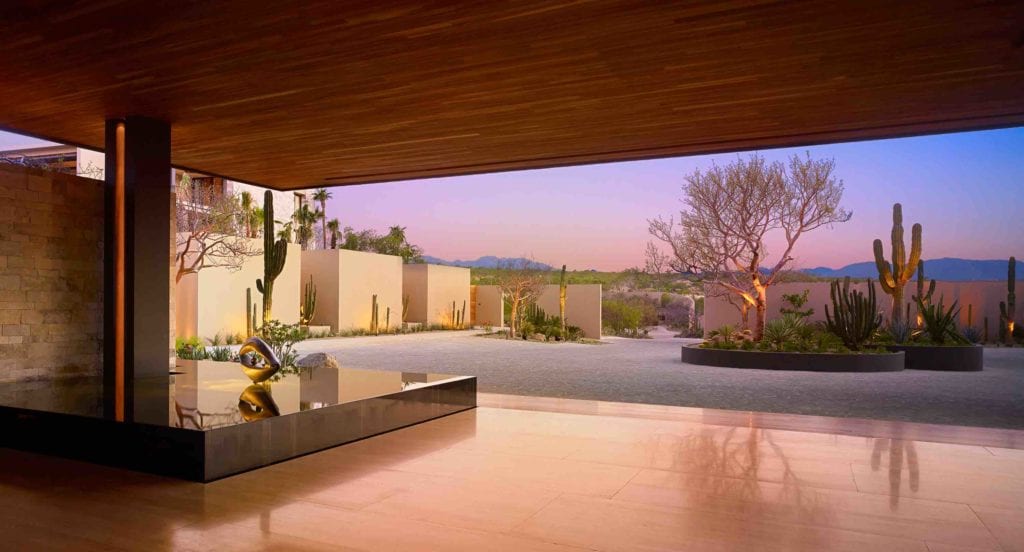 The room transcends its Mexican roots with a very contemporary style coupled with custom-made floor tile throughout the entire floorplan, including the en suite bathroom and outdoor shower. The mango puree in a coconut shell was a delicious in-room welcome gift, making for a spectacular nosh on the balcony overlooking the multi-level pools and Sea of Cortez.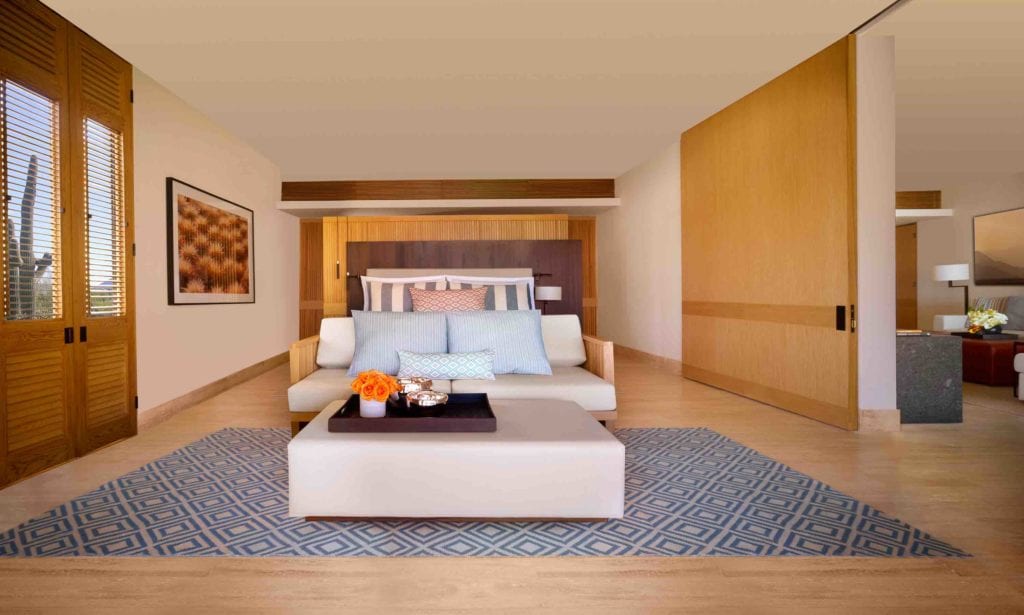 One of our favorite parts of a trip like this is, when we're done unpacking and getting situated in the room, grabbing the sunglasses and a beachy pair of shorts and  heading out to critique the pool situation, locate the bar and breathe in the view that makes a destination so magical. In the case with Montage Los Cabos, it's a long gaze out across Santa Maria Bay which, for all intents and purposes, is front and center serving as the resort's personal beachfront.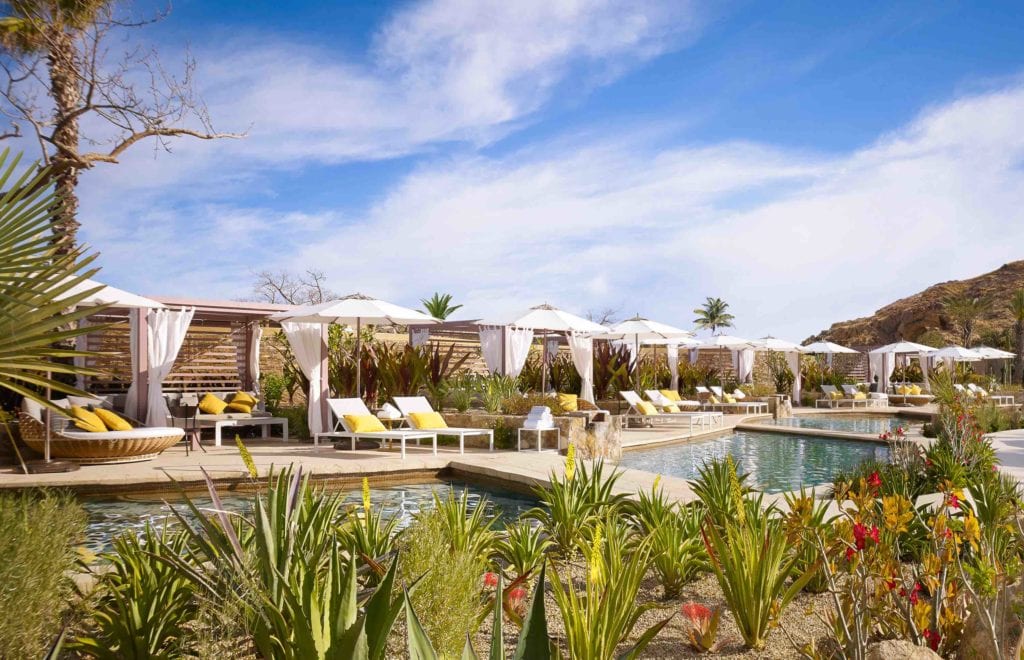 Dining at Marea for a late lunch paired with the view of the water was absolutely sublime. The pastor tacos with guajillo pepper marinated pork loin, pineapple Spanish onions and cilantro is a meal that we still salivate over. Chef Victor Valencia's Marea menu covered plenty of dishes, making for difficult decisions. It's Cabo, so the fish is plentiful and beyond fresh. The Baja Bouillabaisse, which goes great with beer like Pacifico, features fish, shrimp, shellfish, fennel, potato confit, spicy tomato saffron broth and grilled ciabatta bread. Guerrero Negro oysters, charred avocado and lobster, yellow fin tuna, and sea bass ceviche are other can't-miss dishes. Brick oven pizzas are also at your beck and call, while Marea also has menu items by nutritionist and celebrity coach Kelly Le Veque, offering seasonal options for guests to stay on-plan and maintain a healthy regiment while traveling like butter lettuce-wrapped shrimp tacos and Greek Chicken Salad.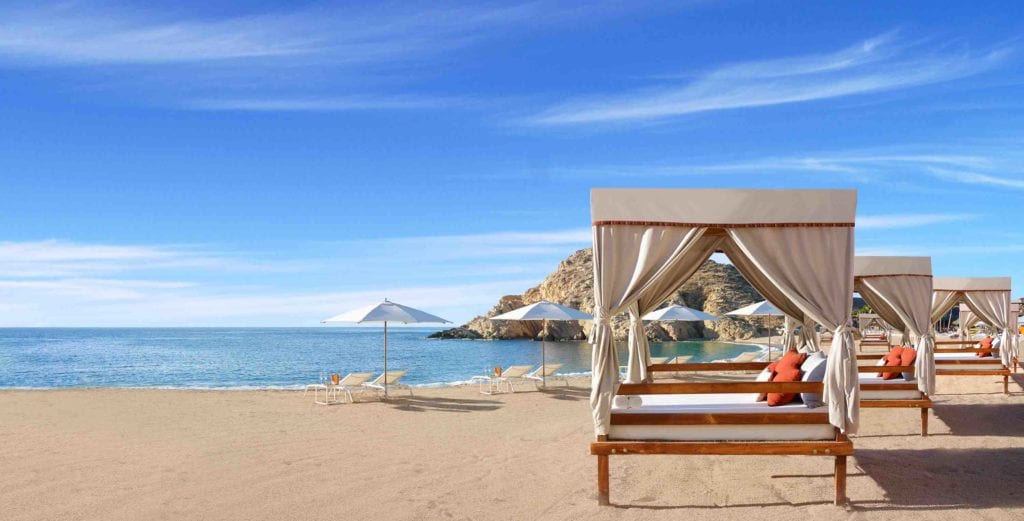 For dinner, Marea brings out the heavyweights for an evening to remember, including Wagyu rib eye, strip loin and skirt steak; lobster risotto, cavatelli and a 15-ounce lobster tail. Our double smoked pork chop paired with a few glasses of pinot noir and capped off with the tres leche cake was well worth hitting the elliptical machine the following morning for some calorie combat.
Dinner can also be savored at the other property's mouth-watering source, Mezcal, which is the resort's signature restaurant and modern Mexican kitchen by Chef Alexis Palacios. The Chef's Tasting allowed us to get busy with a little bit of everything – crispy striped bass, octopus tempura taco, suckling pig al pibil and a wagyu strip loin. Mezcal is also your place for breakfast, featuring the likes of pancakes with banana, cajeta, strawberry syrup, pecans and whipped cream; avocado toast, an array of egg and omelet dishes, pastries, cinnamon dusted French Toast and the meal we had on both mornings – Motulenos, which consisted of an incredible combination of eggs over easy, black beans, smoked ham, Chihuahua cheese, peas, fried plantains and Epazote salsa motulena all on a crispy tortilla. This meal alone is deserving of a flight down to Cabo.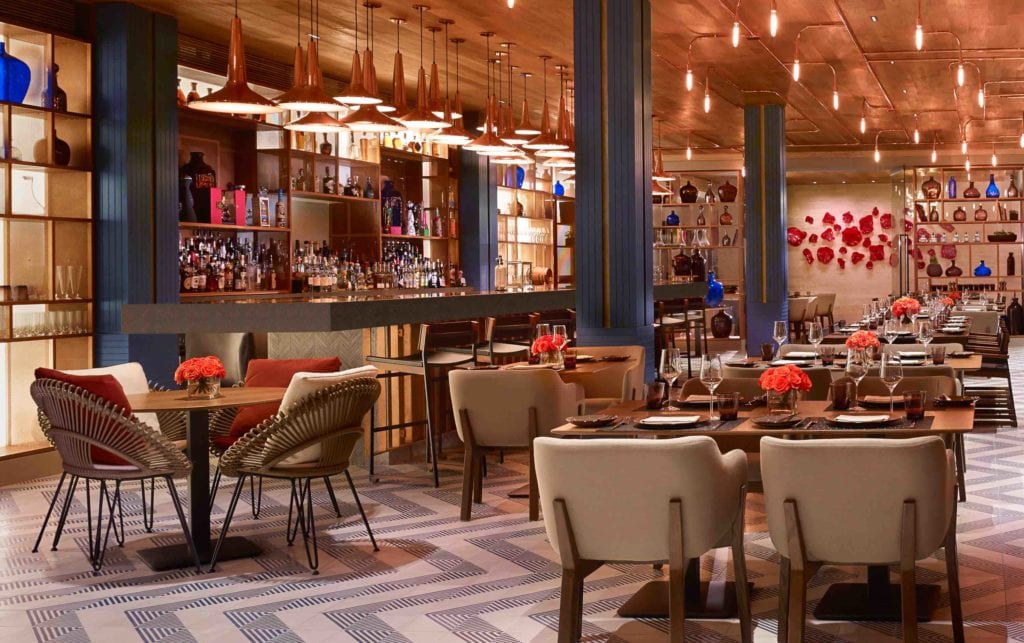 As delicious as all the food is, the hands down star of Montage Los Cabos is Spa Montage. We've encountered only a few very special occasions in our travels where we discovered what we'll call "an escape within an escape."
The resort in itself is an experience like no other, and then there's the private pool at the spa that changes everything. It's an inner sanctuary that oozes relaxation with its cabanas, chaise lounges and parasols, and poolside service for a bite to eat or a mango margarita for a sun soaked interlude. It's an adult pool sans children, so the peace and quiet will have you feeling royal.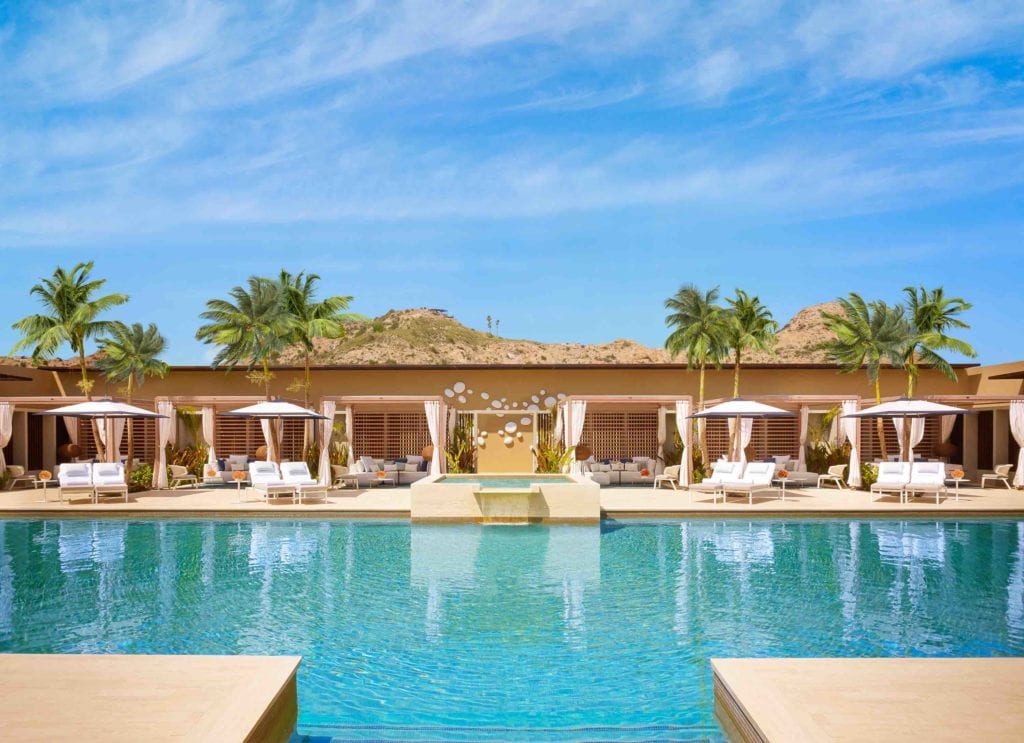 Of course you're at Spa Montage for an unforgettable massage or another out-of-this-world treatment. We were beyond impressed with the men's lounge and spa area prior to our 90-minute appointment. Extensive in size and leaving you wanting for nothing, the whirlpool, sauna, steam room, sitting areas and lockers were thoughtfully spread out to take advantage of the vast space, while attendants are there for any and all assistance.
It's another flawless creation where anything is possible, and probable, when Montage has a say in it.
Denver flies directly into San Jose Del Cabo airport multiple times weekly via Southwest, Frontier and United Airlines. Total in flight time is 3 hours, 5 minutes.