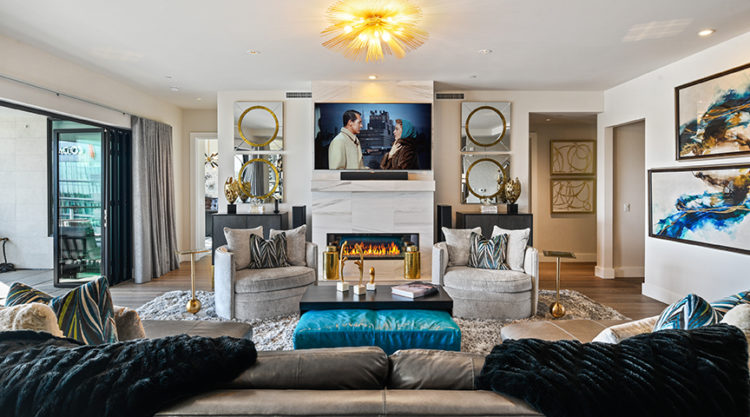 Home
Chic in the Creek
For a fashionable Cherry Creek couple, city living was the answer to their urbane, on-the-go lifestyle. And while they loved the luxury finishes, opulent amenities and incredible convenience of their new building in the heart of the neighborhood, they wanted to put their own stamp on the place they'd call home. With that, the homeowners enlisted designer Shannon McElroy of Carla's, A Classic Design, to  create a space with plenty of personality and sophisticated charm.
"The home was beautiful, but very homogenous and simple. We gave it character through modern, glamorous touches in both the furnishings and accessories," McElroy explains. "Simple lines and a consistent color palette worked to make the already open floor plan even more cohesive from room to room." Indeed, the penthouse residence, which is more than 3,000-sqaure feet, is overflowing with thoughtful touches and high-design elements.
A key factor in achieving  a fashion-forward look that was also inviting and never overwhelming, was the use of wallcoverings in nearly every space. However, instead of blanketing entire rooms in wallpaper, McElroy and her team created accent walls using bold graphics in neutral colors. This helped each space achieve a sense of individuality without making them busy or overdone. In particular, she cites the dining room as a stand out moment. " It is definitely my favorite room in the home. We fell in the love with the wallpaper, which has a bold, large pattern so, in return, we kept everything else very simple while still adhering to our credo of high style," she says.
The entire home boasts wide plank hardwood floors and natural stone appointments that exude luxury, as does the expansive outdoor living space and sweeping views. On the large patio that overlooks bustling Cherry Creek North, a black and white palette was used on sleek, modern sofas and a geometric coffee table. Accent chairs in a complementary geometric pattern mimicked the table's silhouette while also offer comfortable seating for al fresco entertaining.
Inside, the ultra-chic living room, which is centered around a full-marble surround fireplace, boasts a slick metallic silver sectional with pops of turquoise via an oversized leather ottoman, accent pillows, and artwork. Nearby, the contemporary kitchen is simple yet sophisticated, with custom bar stools in a playful pattern that ties in the turquoise used in the main living space. Black and white was also incorporated into the master bedroom, but with cheerful yellow accents to create warmth and whimsy. Lacquered bedside tables and a wallpapered accent wall and a modern crystal chandelier evoke a strong sense of old Hollywood glamour. Yet the crowning jewel of the master suite is undoubtedly the over-the-top boutique style closet.
Another stand out space? For McElroy, it is the home office – a room that's more relevant than ever. "I love the office.  It has great style but remains incredibly masculine," she reveals. "The use of custom fabrics on the wallcoverings and a luxe rug make the space inviting, while the light fixture ties in the glamorous vibe from the rest of the home."
Indeed, the penthouse is most certainly fashionable, making it the perfect Cherry Creek home – one that's classically chic with plenty of au currant style.
Words by Betsy Marr / Photos by Mike McCaw, Spacecrafting