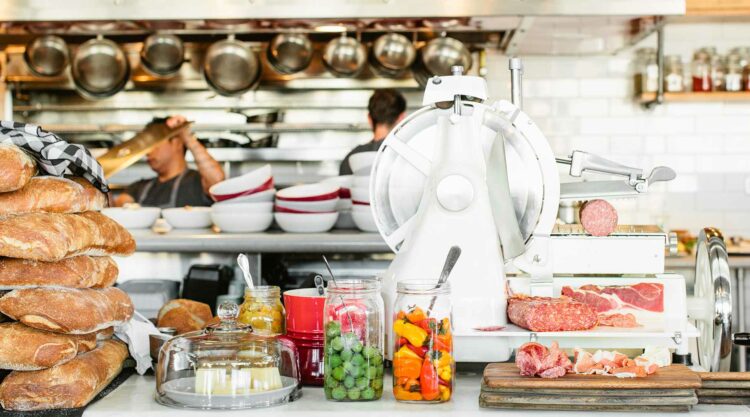 Dining
Cherry Creek Eats
IF IT'S HAPPENING IN THE CULINARY WORLD, IT'S HAPPENING IN CHERRY CREEK…
Who's hungry? Maybe a better question is who isn't hungry? We can always eat. The perfect diet is eating every two hours.
Here in Cherry Creek North and the surrounding area, we find ourselves happily enveloped in a flawless destination for hungry.
Sixty restaurants and cafes pepper this dynamic 16-block district, plus there are another 17 eateries and the like across the street at Cherry Creek Shopping Center. And don't forget the dozen or so in bordering corridors on East 1st Avenue, East 6th Avenue and the booming and bustling 9th and Colorado (9+CO) neighborhood.
It's an eater's paradise in this section of Denver, and it's an integral part to the reputation as one of the nation's respect-ed and reputable food cities.
Alex Seidel, a highly-regarded restaurateur, a critically ac-claimed chef, and owner of the nearby award-winning Fruition Restaurant shares, "I certainly think that we're becoming a food destination. Denver is growing. Tastes are growing. It was pretty much a meat and potatoes town when I moved here, but now there's more of a sophisticated palate and a younger generation of eaters, so a lot has evolved in Denver. As the city becomes more sophisticated, so does the food."
The award-winning fare from Colorado's top chefs runs the gamut from just about every corner of the globe. Mexico, China, Italy, Japan, France, Thailand, India, Vietnam, Cuba, Central America, South America and the United States, to name a few, all have a place at the table. So, whether your stomach is rumbling from a local hotel or from a local residence, you're minutes away from treating your appetite to something special and unforgettable.
Spicy. Sweet. Succulent. Savory. Fast casual. Fine dining. Health conscious. On the go or an hours-long affair. Special occasions. Family. Friends. The big game. Your favorite team. A magical date night.
Breakfasts here are a big deal. Everything you'd expect at your fingertips, but elevated. Restaurant lines are out the door on weekends if you don't make a reservation beforehand. When people are willing to wait to get in, that's all you need to know about the quality of cuisine and the experience that diners are left with when they come to Cherry Creek North to start their day. Just like the altitude, the bar is high here. And where there's a breakfast, there's a brunch. Dishes that are so beautiful, they should be classified as an extension of the neighborhood's magnificent art scene.
And where there's a brunch, there's a lunch. Check out our review of the neighborhood's best sandwiches on page 30. But there's so much more to lunch menus here. The entire point to this dining hub is to make you want to stay for a while. Escape. Enjoy. Indulge. Lunch time is always an unannounced but understood fashion show with plenty of people watching from inside or from the patios. Cherry Creek knows how to dress, but that's another article for another time.
And don't get us started on what dinners mean around these parts. Steaks. Seafood. Sushi. Pasta. Salads. Tacos. Pizza. Gourmet burgers. Ceviche. Pork. Poultry. If what you're looking for isn't here, then it might not exist. We're flavor country with a great appreciation for organic and gluten-free options from local farms providing the freshest, tastiest and cleanest of eat-ing. And don't forget about the sauces. Our dining scene can get a bit saucy with some of the most delicious and mouthwatering creations your taste buds will ever experience. All of this, and more to come. Restaurants want to be here as much as we food aficionados want them to be here, and some new all-stars will be opening their doors later this year. It's the place to be. It's the place to meet. And it's definitely the place to eat.
Featured Image: North Italia