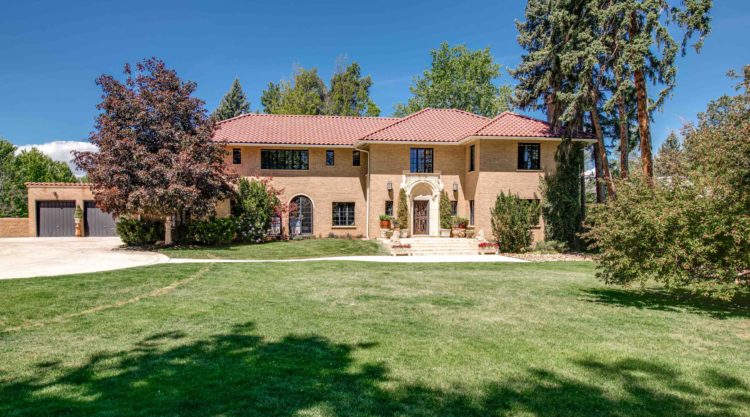 Home
Bespoke in Belcaro
In 1928, there was no name more prestigious when it came to Denver architecture than Fisher & Fisher. Known for the vast majority of the city's distinguished structures at the time, the firm was considered la crème de la crème. It came as no surprise, then, when heiress Florence Kountze Best (of local banking prominence and, more notably, Mayflower fame) commissioned Fisher & Fisher to build her stately home in the tony Belcaro enclave. Best worked closely alongside the team to ensure every detail was flawless, drawing her inspiration from other nearby buildings including Polaris and Park Hill Elementary schools. Fast-forward some 80 years to 2008, and, sadly, the once regal home had fallen into disrepair. Given its highly desirable location, it was set to be demolished at the hands of developers who intended to build four modern dwellings on the single acre lot. While the homes would indeed be opulent, their plans  lacked character and would have completely erased the estate's storied past. With the help of Historic Denver (the same organization that once saved Molly Brown's home from demolition) a Texas couple with a passion for antiques and architecture was able to stop the demo and rescue the Mediterranean Revival at 3125 East Exposition Avenue as their own.
Over the next three years, the homeowners worked with a team of highly skilled craftsmen to not only restore the residence, but to bring it to previously unimagined heights. Avid antique collectors and art lovers, the pair traveled to Europe to source pieces for every single room. A violinist by trade, a designer and architect by heart, the lady of the house worked tirelessly to ensure each detail in the 9,000 square-foot space was visually stunning and innately authentic. A painstaking labor of love, the six-bedroom, five-bathroom home is now reminiscent of an 18th century art and textile museum (albeit a very comfortable one) – a far cry from the cookie-cutter new builds intended for the parcel a decade ago.
Upon entry, it becomes evident that the home is like no other – there's no sheet rock or drywall to be found. Instead, every wall is crafted from waxed Venetian plaster, meticulously applied over the original triple layers of brick. Flooring is a feat in and of itself, with each surface being at least 300-years-old. French oak, limestone and European tile are showcased throughout, as are inlaid Azulejos wall tiles in areas such as the kitchen, breakfast nook and swimming pool. Each, of course, was hand selected for the space in which it sits. What's more, nearly every light fixture in the home is an antique, each more ornate and interesting than the last. Instead of a contractor or handyman as one might expect, a blacksmith worked on-site for the project's entirety, reconfiguring the 18th-and 19th-century iron doors and creating custom windows when the originals couldn't be salvaged. Even the kitchen sink has a story – it was originally part of an 18th-century French silk factory.
Five beautifully restored fireplaces appoint the estate, as does a remarkable subterranean level that is fit for a king. A custom bar with commercial grade equipment, bricked arches and four taps appoints the space, the centerpiece of which is a hand carved, classical interpretation of God, who is seemingly reaching for a nearby Guinness. Also in the space sits a 9-foot antique billiards table, theatre style seating and a 4,000-bottle wine cellar. Outdoors, the entertainer's paradise continues to abound with terraced patios, a swimming pool and multiple lounge areas all complemented by lush, park-like landscaping.
While the estate is indeed opulent, it is surprisingly livable. A spacious master closet is more reminiscent of a luxury contemporary abode than a 1928 dwelling, and the outdoor areas reflect family living with spaces that are ideal for limitless games and family fun. Indoors, white walls, black windows and unique yet neutral flooring allow the home to be customized to a variety of tastes.
Learn more via JeffHendley.com or 303.877.6767.
Photos by Teri Fotheringham