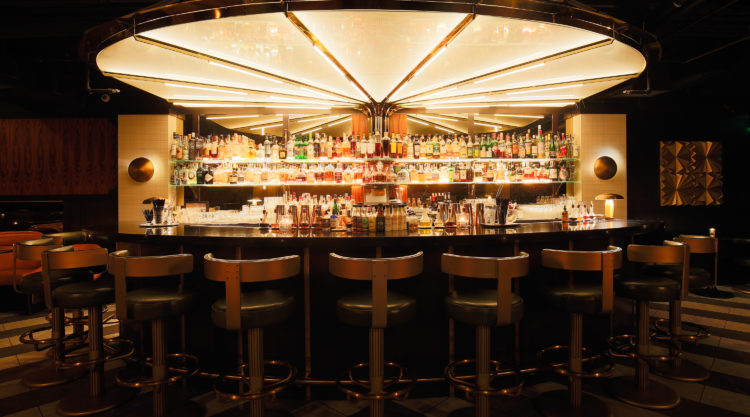 Dining
Bar Cart
It is as incognito a watering hole as you'll ever find. A discreet Cherry Creek cocktail refuge brimming with unrivaled character and old world charm.
It begins with the touch of a golden doorbell in a back alley, followed by an ushered stroll through the concrete bowels of The Halcyon Hotel before arriving at yet another door – this one leading to the ultimate time warp.
Welcome to B&GC.
It's part Al Capone and part Gatsby, transporting you to a cozy, romantic respite replete with hushed lighting, dark wood walls and deep red leather chairs and featuring a large center bar that showcases a jazzy skyline of assorted bottles – a hypnotic vision after a few Sapphire and tonics.
Behind the bar, Matt Samson is sure to take care of you, so we sat down with the veteran bartender for another round of drinks in this modern day speakeasy.
For the locals of Cherry Creek, what intel can you share about the best way to enjoy their neighborhood bar?
I would tell our neighbors to visit us during the week. It's easier for them to get into the club and we have more time to go into details about the cocktails and connect with our patrons, which we really love!
Is there one drink in particular that you love to make?
My calculated approach to creating a Daiquiri tends to differ from other bartenders. I prefer to use raw sugar as opposed to refined sugar.
Is there a cocktail with an interesting background or story to it that you like?
It's a tie between the Aviation and the Airmail. Both cocktails reflect people's fascination with flight, which was a new idea during the early 1900s.
Funniest comment that you've overheard from guests at the bar?
"So, your brother's an engineer?" Or anything indicating a first date.
Oddest drink order you've ever received?
A chocolate martini with two olives, which is considered bad luck.
Talk about the art that goes into a beautiful and delicious cocktail.
A cocktail should be something personal, a garnish should be functional, and the cocktail should be balanced. But at the end of the day, it needs to speak to the guest on a personal level.
Where do you get your inspiration?
From everywhere! Classics are the foundation to everything, but inspiration comes from all around us, both culturally and generationally.
How is B&GC different from the rest?
A true commitment to the guest. We always say, "We don't make cocktails, we create lasting memories." We care deeply about the guest's overall experience, with the anticipation of their return.
Fall and Winter seasonal cocktails that you recommend?
Cognac warms anyone's soul in the colder months. "The Betsy Ross" is a combination of Armagnac, Ruby port, Orange liqueur and nutmeg – perfect for chilly weather.
Make It…
Take the BG&C vibe home with this delicious cocktail recipe, perfect for beginners and mixology aficionados alike…
The Betsy Ross
1.5 oz Ruby Port
1.5 oz Armangac
.5 orange liqueur
2 dashes of bitters
Stir until chilled, strain, and serve up. Garnish with grated nutmeg.