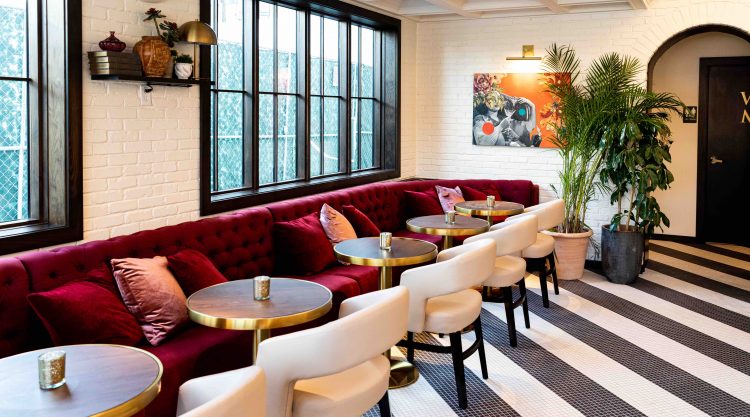 Dining
Forget Me Not
I think I speak for a lot of people when I say, "I need a drink." We look no further than Cherry Creek for what ails us, and a new watering hole to add to the fray couldn't come at a better time. New. Exciting. Alluring. It's Forget Me Not on Clayton Street and the woman in charge is Nicole Lebedevitch. So, we grabbed a spot at the bar to learn more about Cherry Creek's newest drinking buddy as she revealed what's in store for its neighbors.
Talk about the vibe at Forget Me Not. How will it be different from other bars in the neighborhood?
We have created an incredibly special space. This is a cocktail bar, a place to come on in and grab a drink, to wind down from a day of work, to catch up with friends, and to just have fun. The space is intimate and modern and feels as though we are inviting you into our home to enjoy drinks with friends. It is not a restaurant bar like many of our neighbors, but instead it's a bar in which the focus will simply be on the beauty of the carefully crafted cocktails paired with the perfect snacks, and thoughtful spirits, wine, and beer.
You're one of the key players in launching Forget Me Not. How does it feel to be opening such a greatly anticipated space like this in Cherry Creek?
It's incredibly exciting and I can only hope to have the bar live up to the expectations. With all of the starts and stops of the past year, the anticipation has been killing me and I just cannot wait to share what we've built with Cherry Creek and beyond!
What do you know about your Cherry Creek audience? What do they like and appreciate in a place to relax and have some drinks?
Like anyone, we all want nice things and we want to feel special. I just hope that we are able to make everyone who comes into our bar feel as though they are a part of something special. I want everyone to try new things, and to just be genuinely taken care of every time they walk in the front door.
Is there one drink in particular that you love to make?
The one you didn't expect. The one that you take your first sip of and can see in your guest's eyes how much they enjoy what is in front of them. I also really enjoy the technique of making frothy egg white cocktails.
Is there a cocktail with a particularly interesting background or story to it that you like?
Honestly, there's too many to tell here. It's why I love bartending so much. Every drink has a story, a history, a reason for its creation. Sharing this with guests and staff gives them that connection to it being more than just a drink.
What's the most interesting or funniest comment that you've overheard from guests while you're working behind the bar?
"Do you think we should be more like polar bears and ask to share food by touching each others noses together?" To which I of course responded, "You won't do it." Definitely not something you will see happening at a bar at this moment in time, but it made for a quite silly rest of the evening.
What's the oddest drink order you've ever received?
I've worked in a lot of restaurant bars and the joke of 'I could drink this it's so good' when referring to a sauce is often overheard. We had a tuna crudo dish on one of our menus and you were often able to catch a guest tilting the plate to their mouths to drink the vinaigrette. One guest finally asked me if I'd be willing to make the vinaigrette into a cocktail. I'm always up for a challenge. I turned it into a Dirty Gibson with gin, sherry, pickled shallot (which was in the sauce) and the vinaigrette.
Where do you get your inspiration?
I draw inspiration everywhere from books, culinary dishes, visual art and music to travel and, most especially, from my peers and mentors. There is always something new to learn or try and master.
What are some Spring seasonal cocktails that you recommend?
Drink more vermouth and sherry! I'd like to see martinis with more focus on vermouth. Not just what vermouth, but how much vermouth. The floral and herbal notes that make up vermouth and emphasize the spirits they are being mixed into and make some truly beautiful cocktails. Just look at how beautiful an El Presidente (rum, dry vermouth, curacao and grenadine) can be when you carefully choose the ingredients. Also, sherry cobblers with seasonal fruit and a bountiful garnish.
Come meet Nicole and experience Forget Me Not at 227 Clayton Street.