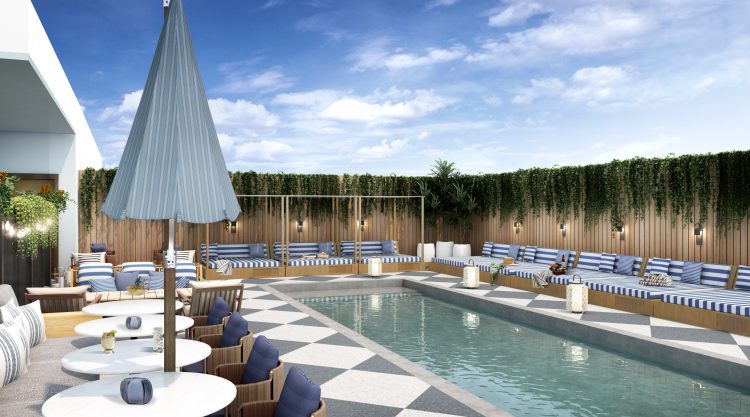 Travel
Ace of Clubs
If Clayton Members Club + Hotel has ears (and it seems to have everything else), then they've been scorching for the past year with all the curious talk and buzz centered around this greatly anticipated unveiling in Cherry Creek North.
Never before has there been this type of focus and branding for a property whose mission is all about an intentionally-cultivated community featuring a vast spectrum of professions, creative expressions, ages, LGBTQ+ identities, ethnicities and personal interests while bringing together a diverse group of Denver's most interesting creators, entrepreneurs, and artisans. It's all about fostering opportunity, equity and inclusion with nearly half the voting Membership Committee identifying as Black, Indigenous and People of Color (BIPOC), and an established Artist, Partner and Collaborator Membership Program that provides an opportunity to local makers to share their talents with the Clayton community while also ensuring financial status is not a barrier to club entry.
And where better to bring everyone together than this state-of-the-art, four-story address on Clayton Street between East Second and East Third Avenues, offering members access to a selection of restaurants, bars, workspaces, a fitness center, a rooftop pool and lounge with more than 150 carefully curated events a year?
Guests at the 63-room boutique hotel will notice the stylish, well-appointed rooms with touches of Denver-inspired, mid-century décor, approximately 5,000 square feet of indoor meeting and event space, and all the amenities of Clayton Members Club.
Let's start with the food.
Under the direction of Executive Chef Brandon Duley, no one under this roof will be going hungry.
A cornerstone of Clayton, Of A Kind, pays homage to the fresh, bright flavors of Mediterranean and California coastal fare. The menu features made-to-order pitas, hearth-fired meats, fresh salads, light plates of pasta and unique hummus plates. The beverage menu, championed by Director of Food & Beverage Lukas Pesek, stars herbaceous and playful renditions of classic cocktails, a selection of local beers and easy-drinking wines.
As Of A Kind's casual companion, OAK Market provides an all-day eatery for inspired cuisine, freshly pressed juices, espresso, coffee and locally-sourced ice cream. Open daily, you can enjoy pastries, vegetable and grain salads, charcuterie and cheese boards, open-faced pitas and more from its quick and friendly counter.
Clayton's cocktail lounge, Five Nines, provides a fun bit of mystery to it with a private entrance on the street, but with no signage above the door. You walk down a long hallway where the vibe transforms from the back entrance to an art deco space with cozy, low couches and the stage for live entertainment.  Here you'll encounter a blend of classic and innovative mixology whose cocktail menu features curated ingredients and high-end spirits alongside a thoughtfully crafted bar snack menu. Inspiring a sexy, secretive atmosphere, the lounge offers an intimate stage for jazz, acoustic and spoken word performances, while welcoming guests Wednesday through Saturday evenings.
The hotel's other hideaways are as thoughtful and plentiful as they come, with something for everyone who's looking to have their own space to rest, relax or work.
The Parlor features a zero-ABV beverage program, a natural/organic wine list and classic cocktails, punctuated by light bites offered all day, where one can entertain socially and professionally in a tech-free space, designed to cultivate engaging conversation and connectivity.
The Restaurant is open for breakfast, lunch and dinner, in a sophisticated, tech-free environment focused on human connectivity. Enjoy burgers and sandwiches on freshly made bread, grain bowls, salads and snacks including crudités and hummus, house-made pickles and more.
The co-working lounge is an extension of The Restaurant where members and hotel guests can work and indulge in a full meal or quick bite, while also enjoying an environment conducive to remote working, with powerful Wi-Fi and ample outlets.
The Library is a quiet and intimate space, perfect for working on a laptop, or enjoying a book with a glass of wine or a cocktail from The Parlor.
The Sunroom is an extension of The Parlor that opens to an outdoor patio, and the perfect place to enjoy the afternoon sunlight.
The Rooftop Restaurant, Bar and Pool, replete with expansive views of downtown Denver and the Rocky Mountains, offers cabanas for enjoying spritzes, frozé and more, as well as all-day food, from boozy brunches to wood-fired pizzas and Mediterranean snacks.
The Fitness Center is complete with Peloton bikes and Woodway treadmills, as well as a locker room and sauna.
There are a variety of private event spaces, including rooms as large as approximately 2,250 square feet, and space for soirées from eight to nearly 200 people.
For club members, the name of the game here is connectivity. More than 150 annual events include intimate conversations led by industry experts, unique speakers and lifestyle tastemakers; programming that celebrates the arts, including emerging artist shows, live music, dance performances and more; culinary events with world-class chefs and sommeliers; legendary parties, soirées and fêtes; programming for the mind, body and spirit; and even creative and educational events for children.
There's nothing else like it. How apropos that it's here in Cherry Creek.
The hotel and club portion of Clayton are slated to open May 6th. Of a Kind is scheduled to open its doors on April 29th. OAK Market is open and is ready to welcome and serve you.