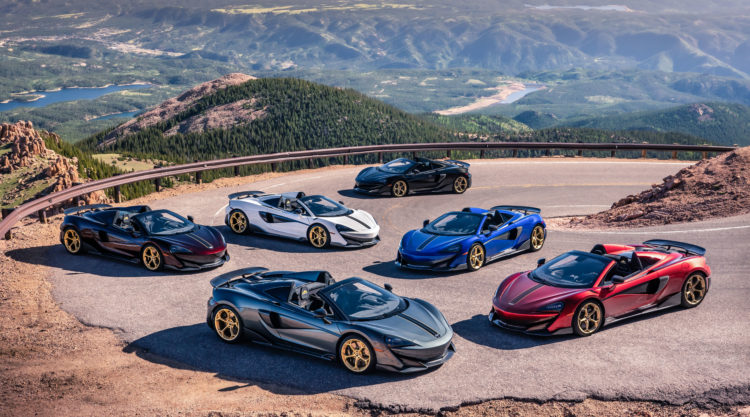 Cars
The New McLaren 600LT
It's a flawless driving machine. And then they took it to the mountain.
What happens when you combine the McLaren 600LT with the world-renowned roads of Colorado's Pikes Peak?
History.
Six supercars – the only half dozen of their kind on the planet – comprise the Pikes Peak Edition of 600LT Spiders with bespoke colors, unparalleled details and stunning craftsmanship unlike any other sports car.
It's the next chapter in the storied history of the McLaren "Longtail," described as the fastest, most powerful and most extreme – yet road legal – Sports Series. Ever.
McLaren describes it as "A track animal let loose on the road."
Commissioned specifically for McLaren Denver by McLaren Special Operations, these six masterpieces commemorate the world's most difficult and storied hill climb event.
Each 600LT offers unique Colorado Gold wheels and MSO bespoke racing stripes, Colorado Gold stitch work throughout the interior, gold paddle shifters and a 12'oclock stripe on the carbon fiber steering wheel.
Each 600LT Spider is fitted with a 3.8L Twin-Turbo V8 offering up just under 600HP. Added fixed aerodynamics provide extreme downforce, and the lightweight materials subtract about 200lbs from a typical Sports Series car.
Inspired by the renowned 675LT, these jaw-dropping whips reach 62 miles per hour in a blurry 2.9 seconds.
And then there are the shoes.
The Pikes Peak Collection is fitted with bespoke high-performance tires created in conjunction with technical partner Pirelli. The track-focused P ZERO Trofeo R has never been available on the Sports Series and delivers improved grip levels and significantly higher cornering speed.
The only place you can slide in behind the wheel of this four-wheeled royalty is at McLaren Denver.
More at mikewardmclarendenver.com