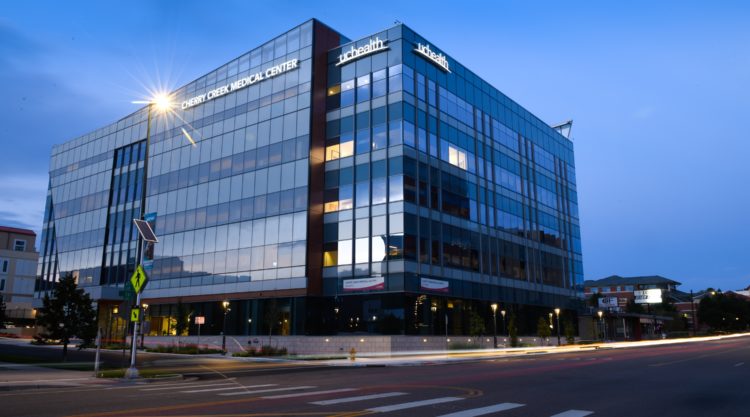 Wellness
UCHealth Cherry Creek
From plastic and reconstructive surgery to dermatology, cancer care, neurology, and more, the new UCHealth Cherry Creek Medical Center brings top doctors to the heart of central Denver
A lifelong athlete and fitness buff, Rebekah Zaluzec became a certified Pilates instructor after college to help clients achieve their health goals.
Then, Zaluzec realized she could do far more to transform people's lives as a surgeon.
"I love helping my patients achieve a goal that they can't reach on their own," Zaluzec said. "My goal is always to help patients look and feel their best."
She now brings her talents to the new UCHealth Cherry Creek Medical Center, where patients can get top-notch specialty care in an intimate neighborhood setting.
Zaluzec has years of training in general surgery, plastic and reconstructive surgery and aesthetic surgery and can help women and men with a range of needs from breast reconstruction after cancer to "mommy makeovers:" tummy tucks, breast lifts, wrinkle-reducing surgeries, body sculpting and facial rejuvenation.
"There are some things about your body that you are not able to fix with health and fitness. I carried a twin pregnancy to term, then breastfed and pumped for my children. I understand the changes that happen with pregnancy and aging. I get that.
"We can help rejuvenate the breasts and make them more youthful," she said. "We can do implants or lifts, fat transfer, or a combination of them."
The new five-story, 97,000-square-foot center opened in September at 100 Cook Street, where patients can get care from the best of the best without having to pay hospital facility fees for most services. Experts from UCHealth and the University of Colorado School of Medicine provide care in more than 20 specialties ranging from neurology to cancer care, dermatology, gynecology, rheumatology and more.
There's a fireplace in the main lobby and colorful art throughout the building that makes the center feel more like a boutique hotel than a medical center. That residential feel aims to soothe people whether they are dealing with routine appointments or challenging illnesses.
"To have a center that visibly demonstrates how we want patients to feel is really special and it incorporates the vision of what we want Cherry Creek to be: concierge-level care in an environment where we can cater to all people quickly and efficiently," said Dr. Nina Casanova, a well-known Denver urologist who sees both men and women in Cherry Creek for issues ranging from urinary incontinence to prostate care and cancer screening to kidney stones and vasectomies.
"Having so much in the same center, be it radiology, radiation oncology, oncology, infusion, urology and a surgical center, you can have one-stop shopping for everything with a streamlined flow of patient care," Casanova said.
This content was created in collaboration with UCHealth