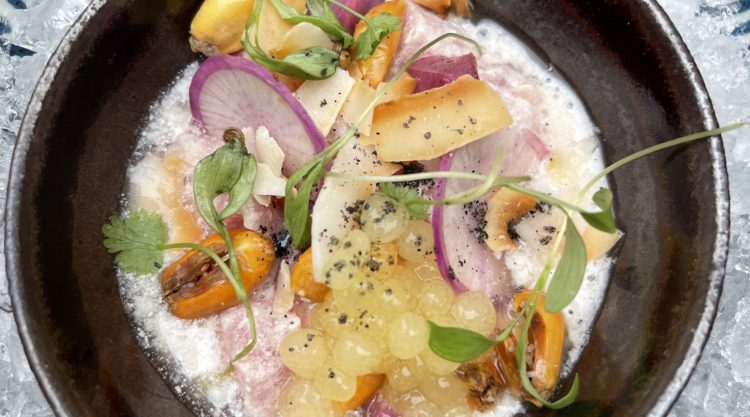 Dining
I Was Hungry – A Night Out at Toro
In my book, there very much is such a thing as a free meal – and I also believe in leftovers taken home in a doggy bag.
So, when our friends at Toro Latin Kitchen and Lounge reached out about joining them for the Cherry Creek North restaurant's one-year anniversary dinner, you bet your sweet corn empanada that I'm going to be there.
What Chef Oscar Padilla and his team have done under the tutelage of restaurant legend Richard Sandoval has been nothing short of ridiculously delicious.
I had the privilege of feasting on some new menu items that will be slowly rolled out throughout the year. The only problem I have is the slow roll and not the immediate availability. Don't tell me to slow my roll. However, it does make for a brilliant culinary build-up and teaser and, knowing what I know now, I'll be on the lookout for all of it.
Here we go…
Toro takes their ceviche very seriously. They have a ceviche bar, for crying out loud. So, when they unveil a new ceviche dish, you know they mean business. First of all, the texture works for me here. You have your ahi, so you know what you're getting with that, but the addition of leche de tigre (that's "Milk of the Tiger" for we bilingual scholars) presents a nice silky bite that's different in flavor with each one. Maybe you get some of that pineapple in one and sweet potato in the other. Regardless, it's not fishy and you're getting sweet flavors with a nice balance until you're done with the bowl.
I finished this before Chef Padilla was done talking about it. I politely asked for another one. I know the server heard me. However, no second chorizo empanada was visible or accessible to me unless you count the ones on other people's plates at the table. I don't count that. This dish is my favorite item on a menu full of some flawless dishes. You had me at "Chorizo." The spice was perfect. Light. Flakey. Bursting with flavor. "Caramelized" is another word I'm a huge fan of, so the shallot was a hit as well. My neighbors at the table were fawning over the chimichurri. I didn't even think this dish needed it. Don't get me wrong – the chimichurri was delicious, but this empanada had plenty of yum under the hood regardless.
Following the Chorizo Empanada is a tough act to follow, however this dish held its own just fine and made me wonder if I could marry the two. I can't remember what the XO Sauce consisted of that was drizzled over the top of this, but it was spicy and full of pop, blending in wonderfully with the radish, daikon and the spectacularly prepared ribeye. Let's just say "XO" is appropriately named because I loved it.
Chef Padilla's Sous Chef hails from Bogota, Colombia, so my understanding is that this was a dish inspired by Chef Wilson Riano and his passion for his homeland. The rice immediately caught my attention. Soft. Fluffy. Great texture and full of flavor. The sweet plantains were my favorite part. It tied everything together with that sweet banana taste coupled with the savory bites of sausage, chicken, rock cornish and the rice. The dish disappeared quickly, and its presentation was stunning.
This was a show stopper at our end of the table. Lots of comments on how perfectly the steak was cooked. The crispy and tender fried yucca combined with the steak, peppers and onions was as amazing a bite as I had all night. The side of beans, pork belly and jalapeños was another success story in its own right. Full disclosure…I took half of it home and threw it on the pan to warm up the following morning with a couple of eggs over easy and the leftovers were UN-BE-LIEVABLE. So much flavor with these incredible spices and ingredients.
The two dipping sauces were top shelf. They could be their own dessert sans churros. But you have these crispy chocolate churros, so it was time to dunk and wrap up an unforgettable meal.
Until we meet again, Toro, I'll put this meal in the memory bank as one of the greats.
More at torodenver.com