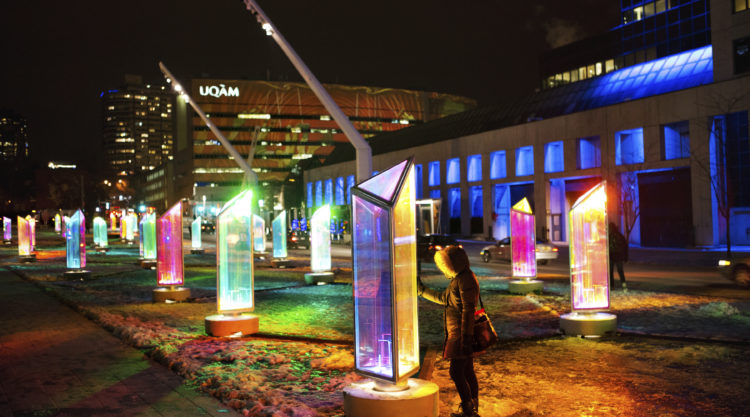 Culture
A Cherry Creek Christmas
All new this year, Cherry Creek North has created a dynamic FREE, OUTDOOR holiday activation called Winter Wanderland that is open to the public daily from now through January 3, 2021. Visitors are invited to stroll the vast open-air sidewalks of the neighborhood quaintly decorated for the holidays and discover shops, bites and lights throughout the entire district.  Cherry Creek North is a walkable 16-block mixed use neighborhood located in Central Denver (University Blvd. to Steele St. between 1st and 3rd Avenues) that is home to 260 businesses encompassing local boutiques, nationally acclaimed brands, chef driven restaurants and distinct luxury hotels.  Cherry Creek North has created a variety of special holiday happenings and opportunities to provide a fun and responsible environment for people to create bright holiday memories.
The Winter Wanderland Light Walk features a canopy of more than a half million twinkling lights dressing hundreds of trees. Along the way, guests can find eight of the trees adorned with vibrant hanging strands of lights choreographed to music during timed shows and enter for a chance to win a $1,000 gift certificate to a Cherry Creek North store of their choice. Guests can also wander among Prismatica*, a dynamic temporary lighted art installation consisting of 25 towering prisms that rotate at their base and display a kaleidoscope of color.  Produced by Fetch, the Cherry Creek Holiday Market offers a wide array of shopping options from local makers selling wares from their old-world European style chalets, themed cocktails and festive warm drinks as well as live music. On Thursday nights from November 19 – December 23 (excluding Thanksgiving), shops stay open late from 5-8 p.m. and evening shoppers can find unique gifts for everyone on their list while enjoying free treats and giveaways at Cherry Creek North's surprise and delight outdoor tents. In an extended effort to support Denver's small business community in this difficult time, Cherry Creek North is welcoming visitors to shop local and independently owned businesses during Small Business Weekend, November 27-29.  Out of the 260 retail and service businesses in Cherry Creek North, about 70 percent are small retail businesses and many of them are planning special offers for shoppers throughout the weekend, plus the chance to win prizes valued at more than $400. With decorations, lights, entertainment and shopping options throughout the neighborhood, Cherry Creek North encourages people to come brighten their holidays in an enjoyable, responsible, and socially distant manner.
The Winter Wanderland holiday happenings map and full details of each attraction can be found at CherryCreekNorth/Holidays.
Winter Wanderland Light Walk
When: Thursday, Nov. 19 – Sunday, Jan. 3
Where: Eight trees throughout Cherry Creek North
Prismatica*, presented by Alpine Bank
When: Thursday, Nov. 19 – Sunday, Jan. 3
Where: Gart Plaza (3rd & Milwaukee)
When: Thursdays, Nov. 19 – Dec. 17 (excluding Thanksgiving)
Where: Throughout Cherry Creek North
Times: 5 p.m. to 8 p.m.
Cherry Creek Holiday Market
When: Thursday, Nov. 19 – Wednesday, Dec. 23
Where: Fillmore Plaza (between 1st & 2nd Ave.)
Times: 10 a.m. to 6 p.m. Sunday through Wednesday and 10 a.m to 8 p.m. Thursday to Saturday
-Entry is free but reservations are encouraged as market capacity is limited.
–Make reservations at CherryCreekHolidayMarket.com
When: Friday, Nov. 27 – Sunday, Nov. 29
Where: Participating local businesses throughout Cherry Creek North
Discover the perfect gifts, meals and moments at one of the 260 unique places to shop, dine, relax and indulge in Cherry Creek North. Enjoy shops, bites and lights in this Winter Wanderland.
Follow us on Facebook at Facebook.com/CherryCreekNorthBID and follow us on Instagram at @CherryCreekNorth.
*Prismatica's conception and execution is by RAW Design in collaboration with ATOMIC3 while production is managed by Quartier des Spectacles Partnership, Montreal, Canada.
Cherry Creek North would like to thank our community sponsors: Alpine Bank, JW Marriott Denver Cherry Creek, Enstrom Candies, ink! Coffee, FirstBank and KOSI 101.1- Denver's Holiday Station.